Are you struggling with swollen legs and seeking relief through the power of prayer?
Look no further. In this blog post, we will explore seven healing prayers specifically designed to alleviate the discomfort and reduce swelling in your legs.
Each prayer is accompanied by supporting scriptures to strengthen your faith as you seek divine intervention.
Whether you're dealing with a temporary condition or a chronic issue, these prayers can serve as a source of comfort and healing.
Let's dive in and discover the power of prayer in addressing swollen legs.
Understanding Swollen Legs and the Need for Healing Prayers
Swollen legs can be a challenging condition to deal with, causing discomfort and pain.
While seeking medical treatment is important, it is equally essential to address the issue from a spiritual standpoint.
In this section, we will explore the causes of swollen legs and discuss the significance of seeking spiritual healing through prayers.
Related: 25 Healing Scriptures for Feet
What Causes Swollen Legs?
Swollen legs, also known as edema, occur when an excess amount of fluid builds up in the tissues of the legs.
Several factors can contribute to this condition, including:
Poor circulation: When blood flow in the legs is compromised, it can lead to fluid retention and swelling.
Prolonged sitting or standing: Remaining in the same position for extended periods can hinder proper blood circulation and result in swollen legs.
Injuries or trauma: Any form of injury or trauma to the legs can cause swelling and inflammation.
Medical conditions: Certain medical conditions like heart problems, kidney disease, and lymphedema can lead to fluid retention and swollen legs.
Side effects of medications: Some medications may cause fluid retention as a side effect, resulting in swollen legs.
Understanding the root causes of swollen legs can help individuals take preventive measures and address the condition more effectively.
The Importance of Seeking Spiritual Healing for Swollen Legs
While medical treatments and lifestyle adjustments play a crucial role in managing swollen legs, seeking spiritual healing through prayers can provide an added dimension of support and comfort. Here are a few reasons why it is important to incorporate prayers for healing into the treatment process:
Mind-body connection: Acknowledging the mind-body connection is essential in promoting holistic healing. Prayers help individuals connect with their inner selves and tap into the healing power of their faith.
Emotional and mental well-being: Dealing with swollen legs can evoke feelings of frustration, anxiety, and helplessness. Engaging in prayers can provide solace, peace, and a sense of hope, promoting emotional and mental well-being.
Strength and resilience: Praying for healing allows individuals to draw strength from their faith and cultivate resilience in the face of physical challenges. It helps them face the condition with a positive mindset and reduces stress levels.
Community support: Prayers often involve seeking support from the community, whether it be through a religious congregation or loved ones. This sense of unity and collective prayer can provide comfort and a strong support network.
Guidance and clarity: Praying for healing can bring a sense of guidance and clarity to individuals, helping them make informed decisions about their overall well-being and treatment plans.
Incorporating prayers into the healing process for swollen legs offers individuals a comprehensive approach to recovery, addressing not just the physical symptoms but also the emotional and spiritual aspects of their well-being.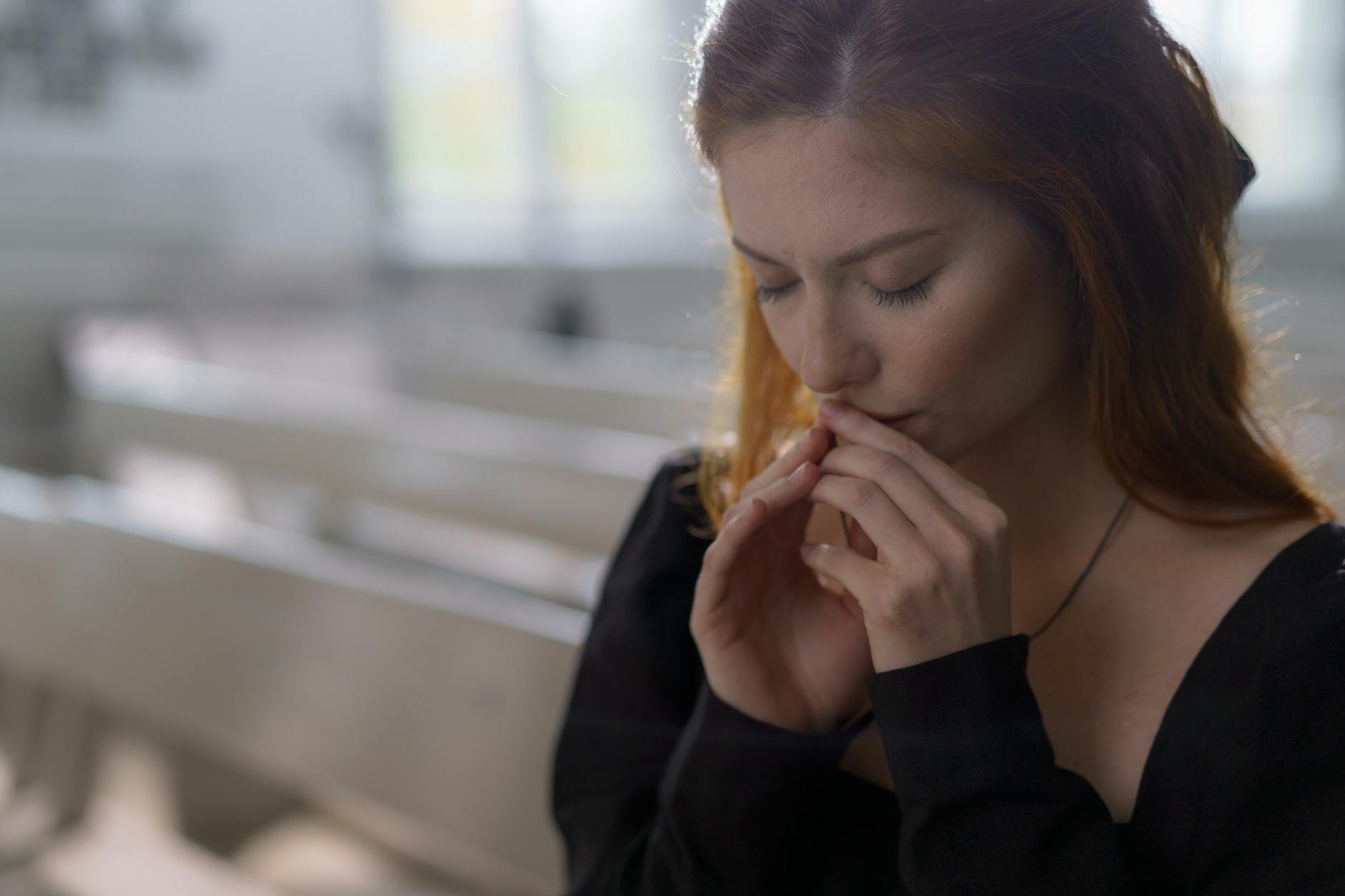 A Woman in Black Long Sleeves Praying with Her Eyes Closed (Photo by cottonbro studio)
Seven Healing Prayers for Swollen Legs
Swollen legs can be a discomforting condition that affects many individuals. If you or someone you know is experiencing swelling in the legs, incorporating prayer into your healing journey can provide solace and support. Through the power of faith, these healing prayers can bring comfort, strength, and relief. Below are seven powerful prayers along with corresponding scriptures that can guide you in seeking healing for swollen legs.
Prayer 1
Dear Heavenly Father, I come before you humbly, seeking your divine intervention and healing touch upon these swollen legs. Please alleviate the discomfort and pain, allowing the swelling to subside. I have faith that you are the ultimate healer, capable of restoring balance and well-being to my body. In Jesus' name, I pray. Amen.
Scripture: "He heals the brokenhearted and binds up their wounds." – Psalm 147:3 (ESV)
Prayer 2
Lord Jesus, I bring my swollen legs before you, asking for your miraculous healing power to flow through every part of my body. I trust in your ability to restore health and vitality, removing the swelling and restoring proper circulation. Strengthen my faith as I surrender this condition into your loving hands. Amen.
Scripture: "Heal me, O Lord, and I shall be healed; save me, and I shall be saved, for you are my praise." – Jeremiah 17:14 (ESV)
Prayer 3
Gracious God, I lift up my swollen legs to you and seek your divine intervention. Please guide the medical professionals in their diagnosis and treatment. Grant them wisdom and discernment to provide the best course of action for my condition. As I receive medical care, I ask for your supernatural healing to complement and enhance the treatment. Amen.
Scripture: "A joyful heart is good medicine, but a crushed spirit dries up the bones." – Proverbs 17:22 (ESV)
Prayer 4
Heavenly Father, I declare your promises of healing over my swollen legs. Your Word assures me that by Jesus' stripes, I am healed. I receive this healing by faith, believing that you have already provided for my restoration. Strengthen my body, alleviate the swelling, and bring back comfort and mobility. In Jesus' name, I pray. Amen.
Scripture: "But he was pierced for our transgressions; he was crushed for our iniquities; upon him was the chastisement that brought us peace, and with his wounds, we are healed." – Isaiah 53:5 (ESV)
Prayer 5
Dear Lord, I surrender my swollen legs into your loving care. I ask for your guidance in making wise lifestyle choices that promote healing and reduced swelling. Help me to prioritize regular exercise, maintain a healthy diet, and implement self-care practices that alleviate discomfort. Grant me the strength and discipline to make necessary changes for my well-being. Amen.
Scripture: "Do you not know that your bodies are temples of the Holy Spirit, who is in you, whom you have received from God? You are not your own." – 1 Corinthians 6:19 (NIV)
Prayer 6
Lord of all creation, I thank you for your marvelous design of the human body. I pray for the proper functioning of my circulatory system, that it may work optimally to reduce swelling in my legs. Strengthen the blood vessels, remove any obstacles to healthy blood flow, and restore balance to my body. Your healing power knows no bounds. Amen.
Scripture: "For you formed my inward parts; you knitted me together in my mother's womb. I praise you, for I am fearfully and wonderfully made. Wonderful are your works; my soul knows it very well." – Psalm 139:13-14 (ESV)
Prayer 7
Heavenly Father, I seek your guidance and wisdom in finding the root cause of the swelling in my legs. Direct me to the right healthcare professionals who can provide accurate diagnoses and effective treatments. I believe in your divine guidance and trust that you will lead me towards the solutions that will bring about lasting healing and relief. Amen.
Scripture: "Trust in the Lord with all your heart and lean not on your own understanding; in all your ways submit to him, and he will make your paths straight." – Proverbs 3:5-6 (NIV)
Remember, prayer is a spiritual practice that can provide comfort, strength, and hope. Incorporate these healing prayers into your daily routine, allowing God's grace to work in your life. Trust in His plan for your healing and have faith that relief will come.
Scriptures Supporting Healing Prayers for Swollen Legs
The power of prayer has long been recognized as a source of healing and comfort for those facing physical ailments. In the case of swollen legs, the use of specific scriptures can provide a foundation for focused and meaningful prayers. Here, we explore four biblical passages, Psalm 103, Isaiah 53, James 5, and Matthew 8, that can serve as a basis for healing prayers targeted towards swollen legs.
Psalm 103
In Psalm 103, we find words of praise and thanksgiving to the Lord, who forgives sins and heals all diseases. This passage reminds us of God's compassion and willingness to bring restoration to our bodies. As we pray for healing of swollen legs, we can draw strength and faith from these verses, knowing that God's healing touch is available to us.
Isaiah 53
The prophecy in Isaiah 53 provides a powerful insight into the redemptive work of Jesus Christ. This chapter describes his sufferings and the atonement he made for our sins. The verse that particularly resonates with healing prayers for swollen legs is Isaiah 53:5, which states, "But he was pierced for our transgressions, he was crushed for our iniquities; the punishment that brought us peace was on him, and by his wounds, we are healed." This verse serves as a reminder that through Christ's sacrifice, we can find healing and restoration for our physical ailments, including swollen legs.
James 5
James 5:14-15 offers practical guidance on seeking prayer for healing within the Christian community. This passage encourages believers to call upon the elders of the church, anointing the sick with oil and praying for their restoration. When praying for healing of swollen legs, we can draw inspiration from James' words and approach our faith community for support and intercession.
Matthew 8
The miracles performed by Jesus are a testament to his power and compassion. In Matthew 8, we find accounts of Jesus healing various individuals, restoring them to health and wholeness. One particular incident involves Jesus healing a man with leprosy, showcasing his ability to heal physical afflictions. As we pray for healing of swollen legs, we can derive hope from these stories, knowing that just as Jesus healed others, he is able to bring healing to our bodies as well.
Incorporating these scriptures into our prayers for swollen legs can bring focus, faith, and assurance of God's healing presence. Let us approach God with confidence, believing in the power of his Word and the promises it holds. Through our prayers, we invite a divine touch that can bring restoration and relief to our bodies, including our swollen legs.
Person Using a Smartphone (Photo by cottonbro studio)
Conclusion
In conclusion, incorporating healing prayers into your daily routine can be a powerful way to find relief from swollen legs. By seeking guidance from the scriptures, you can find solace and comfort in knowing that there is divine intervention available to you. Remember to have faith, stay consistent with your prayers, and trust in the healing power of God. Whether you are facing a temporary or chronic condition, these prayers can provide you with the strength and encouragement you need to overcome any challenges related to swollen legs. So, take a moment each day to connect with your faith, recite these healing prayers, and allow the divine intervention to work its wonders in your life. May your legs find healing, comfort, and restoration.