Are you or someone you know struggling with addiction?
Finding solace and strength in difficult times can be a challenging journey. Fortunately, there are powerful healing scriptures that can offer comfort and guidance along the way. In this blog post, we will explore 15 transformative scriptures that have the potential to bring hope and inspiration to those battling addiction.
Whether you are seeking spiritual support or simply seeking words of encouragement, these scriptures can serve as a source of strength on your path to recovery. Let's dive in and discover the profound healing power of these words.
What is Addiction?
Addiction is a powerful, often complex, and multifaceted condition that affects millions of people worldwide. It goes beyond mere substance abuse and involves a compulsive pattern of behavior that is difficult to control or stop. In essence, addiction is a chronic brain disorder that hijacks the reward system, leading to intense cravings and a strong dependence on a substance or behavior.
Understanding the Science of Addiction
To comprehend addiction fully, it's important to delve into the science behind it. Addiction primarily affects the brain's reward circuitry, which is responsible for reinforcing pleasurable experiences and motivating certain behaviors. When a person engages in addictive substances or behaviors, the brain releases dopamine – a neurotransmitter associated with pleasure and motivation.
Over time, repeated exposure to addictive substances or behaviors alters the brain's chemistry, leading to tolerance and diminished pleasure response. This ultimately drives individuals to increase their substance intake or engage in more extreme behaviors. Consequently, a vicious cycle ensues, making it incredibly challenging to break free from addiction's grasp.
The Different Types of Addiction
Addiction can manifest in various forms, each posing its own unique set of challenges. Here are some common types of addiction that individuals may struggle with:
Substance Addiction: This includes addiction to drugs, alcohol, prescription medications, or other substances that alter brain function and produce pleasurable effects.
Behavioral Addiction: Unlike substance addiction, behavioral addiction does not involve the ingestion of substances. Instead, it relates to compulsive behaviors such as gambling, internet or gaming addiction, shopping addiction, or even workaholism.
The Impact of Addiction on Individuals and Society
Addiction takes a heavy toll on both individuals and society as a whole. Its detrimental effects encompass various aspects of a person's life, including physical health, mental well-being, relationships, and overall quality of life. Some consequences of addiction may include:
Deterioration of physical health and increased risk of chronic diseases
Impaired cognitive function and mental health disorders
Strained relationships with family, friends, and colleagues
Financial difficulties and legal troubles
Decreased productivity and occupational issues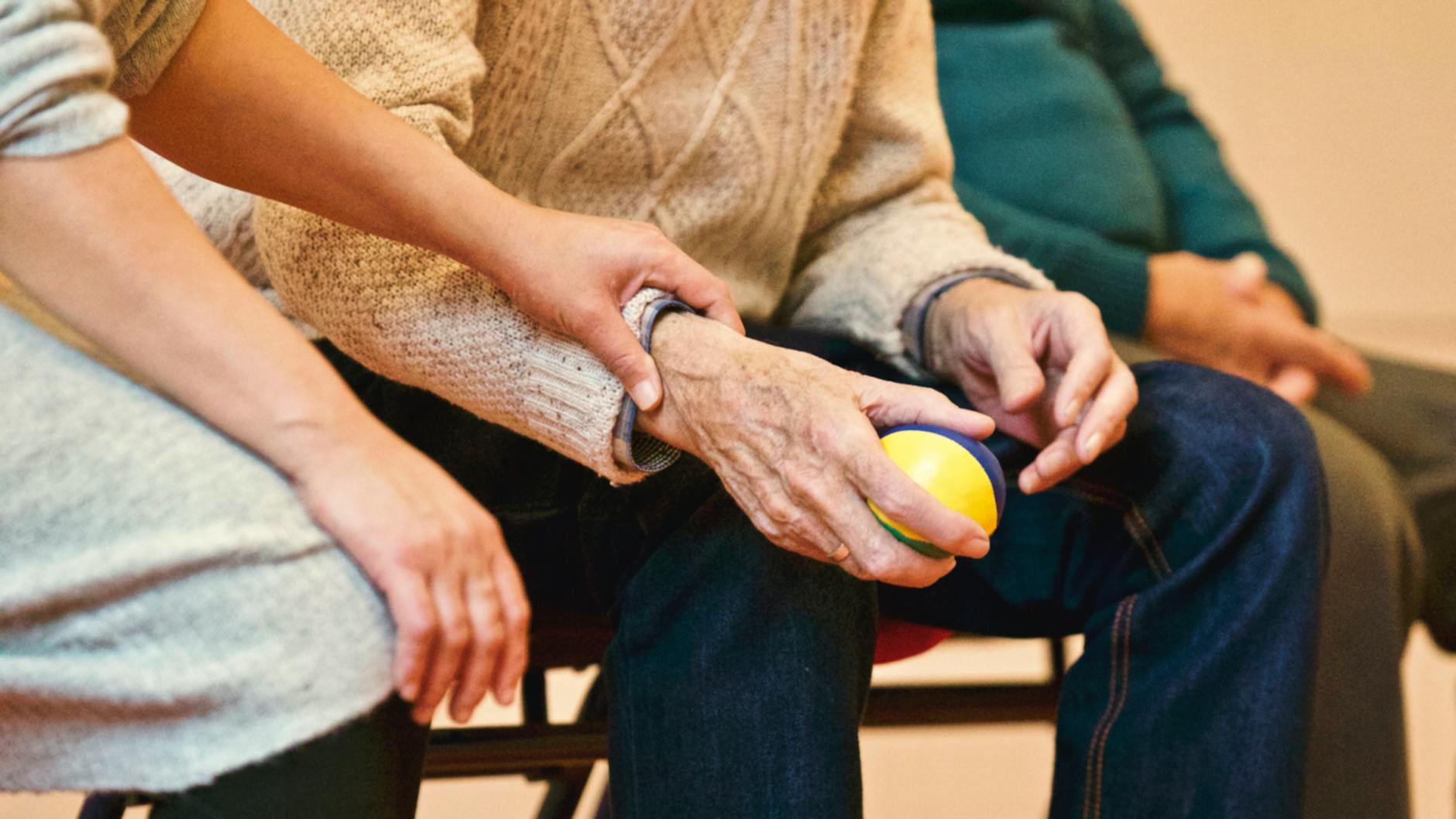 Person Holding a Stress Ball (Photo by Matthias Zomer)
It is crucial to address addiction promptly and provide individuals with the necessary resources and support to overcome this challenging condition. Rehabilitative programs, therapy, support groups, and a strong support network can play a pivotal role in the recovery journey.
In the following sections, we will explore a selection of healing scriptures that offer hope, strength, and encouragement to those battling addiction. These passages can serve as a source of inspiration and provide spiritual guidance during the recovery process.
The Power of Healing Scriptures
Scriptures have a profound impact on our lives, providing comfort, guidance, and hope in times of difficulty and struggle. When it comes to addiction, turning to healing scriptures can be a powerful tool in the journey towards recovery. In this section, we'll explore how scriptures can provide comfort and hope, as well as the role of faith in overcoming addiction.
How Scriptures Can Provide Comfort and Hope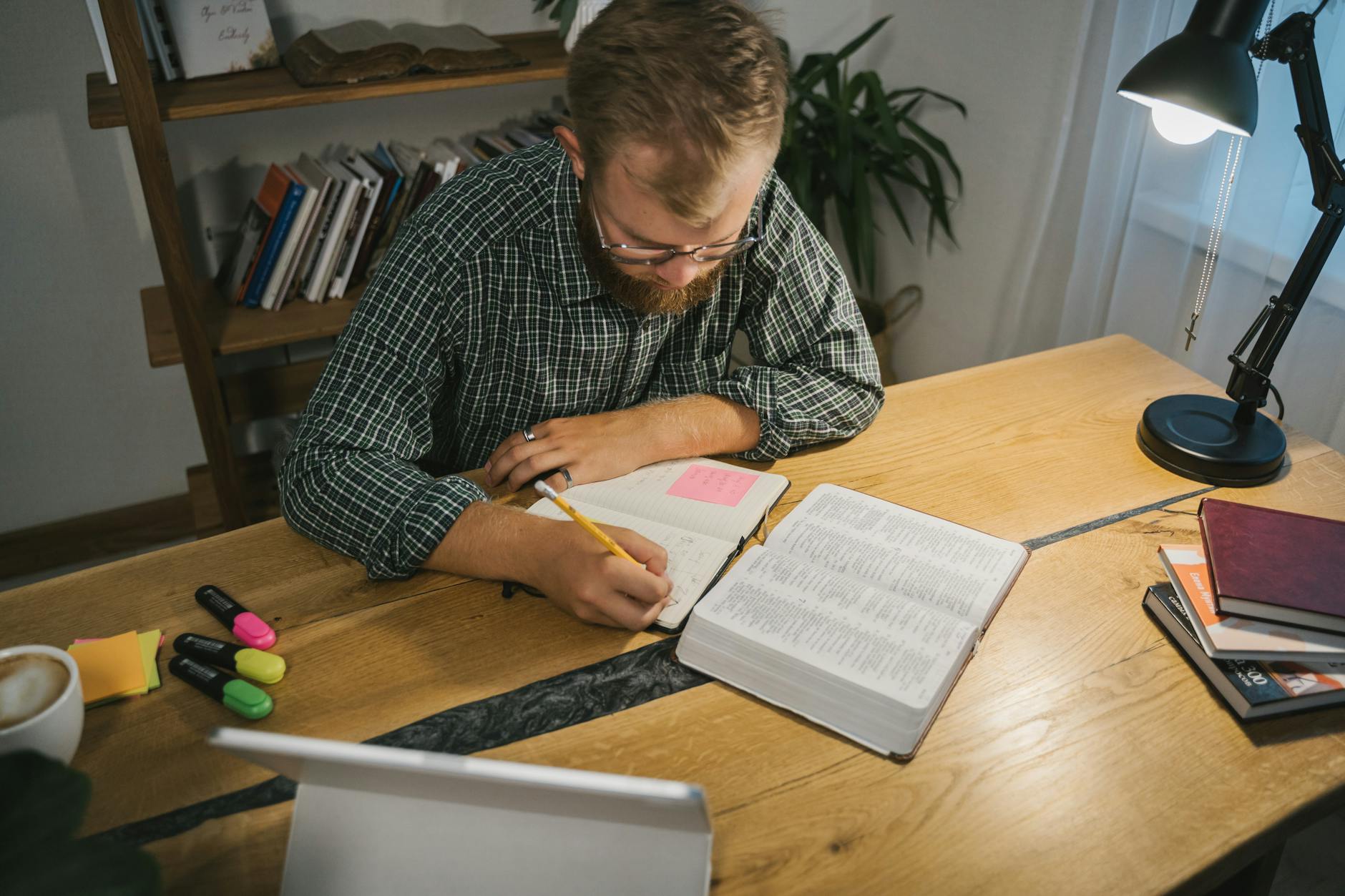 A Man Writing on the Notebook (Photo by Tima Miroshnichenko)
When facing addiction, it's common to experience feelings of despair and hopelessness. This is where the power of healing scriptures comes into play. Scriptures offer solace and reassurance, reminding us that we are not alone in our struggles. They provide a sense of comfort and hope, serving as a source of strength to persevere through challenging times.
Reading scriptures related to healing and deliverance can inspire a renewed sense of faith and belief in the possibility of overcoming addiction. They offer words of encouragement and remind us of the divine presence that is always with us, ready to guide us towards a path of healing and recovery.
The Role of Faith in Overcoming Addiction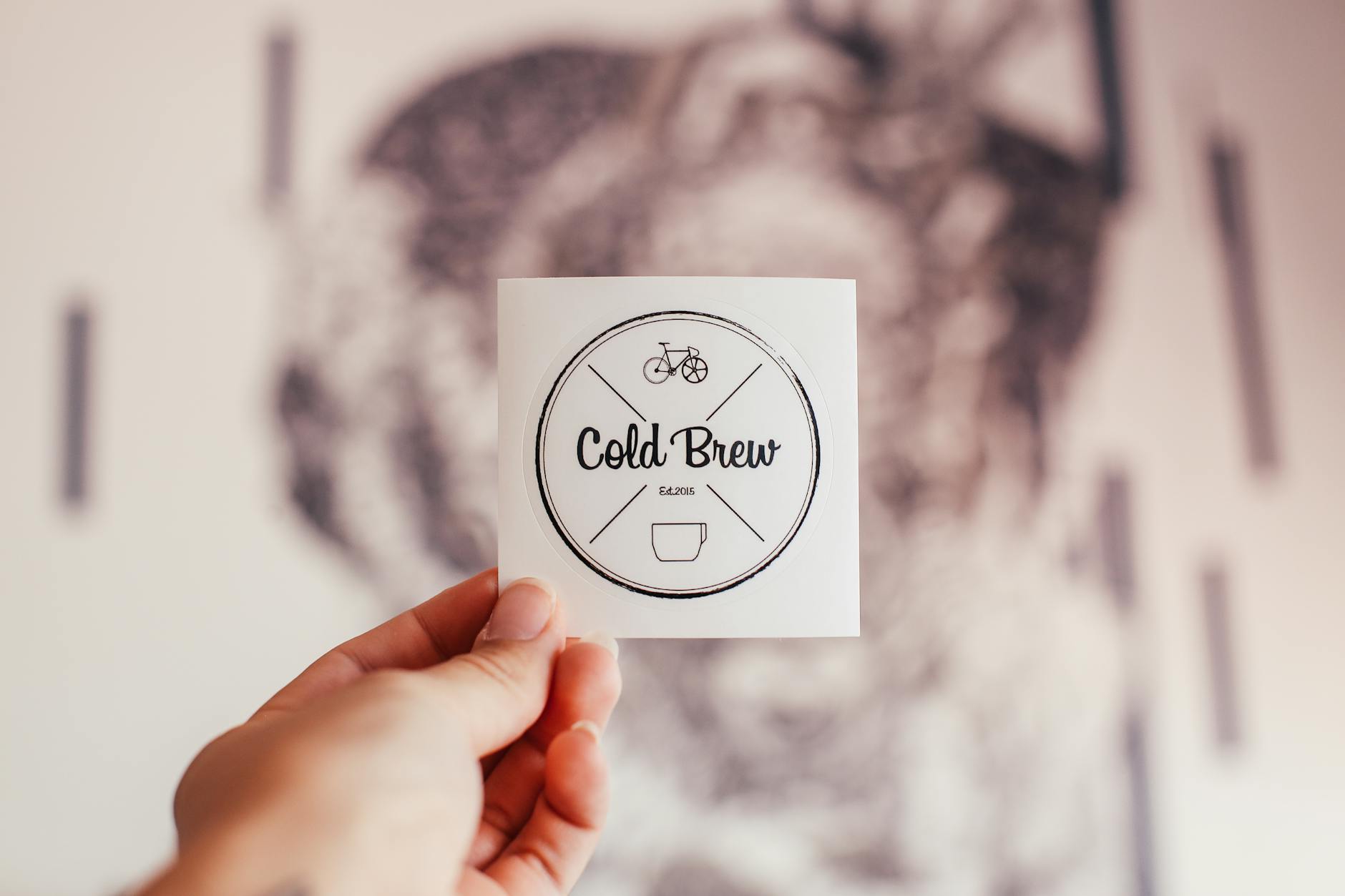 Unrecognizable person demonstrating coffee shop badge with Cold Brew inscription and creative design in hand while standing on blurred background (Photo by Rachel Claire)
Faith plays a significant role in the journey of overcoming addiction. It provides the necessary foundation for hope and transformation. By placing our trust in a higher power, we open ourselves up to the possibility of receiving divine assistance and strength.
When we engage with scriptures that emphasize faith and trust in God, we cultivate a mindset of surrender and reliance on a power greater than ourselves. This perspective shift allows us to let go of control and surrender our addiction to a higher power, ultimately putting our faith in the process of healing.
Additionally, scriptures can serve as a guidebook for developing practical strategies to combat addiction. They provide wisdom and insight on how to resist temptation, cultivate self-discipline, and seek support from a community of believers. By incorporating these teachings into our lives, we create a strong foundation for recovery.
In conclusion, the power of healing scriptures lies in their ability to provide comfort and hope, while also reinforcing the role of faith in overcoming addiction. By immersing ourselves in these words of wisdom, we can find solace, strength, and guidance on our journey towards healing and recovery.
15 Healing Scriptures for Addiction
Addiction is a challenging battle that many people face, but finding strength and comfort in the Word of God can provide solace and guidance. Here are 15 healing scriptures to encourage those struggling with addiction on their journey to recovery.
Scripture 1
"Trust in the LORD with all your heart and lean not on your own understanding; in all your ways submit to him, and he will make your paths straight." – Proverbs 3:5-6
In times of addiction, it's crucial to surrender our own understanding and trust in God wholeheartedly. By submitting to Him, we can find clarity and direction on the path to recovery.
Scripture 2
"The LORD is near to the brokenhearted and saves the crushed in spirit." – Psalm 34:18
Feeling broken and crushed is a common struggle for those battling addiction. This scripture reminds us that God is close to us in our pain and offers salvation and healing for our spirit.
Scripture 3
"I can do all this through him who gives me strength." – Philippians 4:13
Recovery from addiction requires strength and determination. This scripture assures us that through God's empowering strength, we can overcome any challenge that lies ahead.
Scripture 4
"He heals the brokenhearted and binds up their wounds." – Psalm 147:3
Addiction often leaves emotional and spiritual wounds that need healing. God, in His infinite compassion, is ready to mend our brokenness and restore us to wholeness.
Scripture 5
"But he said to me, 'My grace is sufficient for you, for my power is made perfect in weakness.' Therefore I will boast all the more gladly about my weaknesses, so that Christ's power may rest on me." – 2 Corinthians 12:9
Admitting our weaknesses is a significant step towards recovery. This scripture reminds us that it is in our weaknesses that God's power is made perfect, offering us His sufficient grace to overcome addiction.
Scripture 6
"For I am the LORD your God who takes hold of your right hand and says to you, Do not fear; I will help you." – Isaiah 41:13
When the journey seems overwhelming, this scripture reassures us that God is there to hold our hand, offer us support, and guide us through the difficulties of addiction.
Scripture 7
"No temptation has overtaken you except what is common to mankind. And God is faithful; he will not let you be tempted beyond what you can bear. But when you are tempted, he will also provide a way out so that you can endure it." – 1 Corinthians 10:13
Feeling trapped in addiction can be discouraging, but this scripture reminds us that God's faithfulness will never allow us to endure temptation beyond our ability to resist. He always provides a path of escape.
Scripture 8
"You will keep in perfect peace those whose minds are steadfast because they trust in you." – Isaiah 26:3
The chaotic nature of addiction can rob us of peace. By steadfastly trusting in God, we can experience His perfect peace, even amidst the storm of addiction.
Scripture 9
"I sought the LORD, and he answered me and delivered me from all my fears." – Psalm 34:4
Addiction often accompanies fear and anxiety. This scripture encourages us to seek God, knowing that He will answer us and deliver us from the grip of fear.
Scripture 10
"The Spirit of the Lord is on me because he has anointed me to proclaim good news to the poor. He has sent me to proclaim freedom for the prisoners and recovery of sight for the blind, to set the oppressed free." – Luke 4:18
God's desire is to bring freedom and healing to those trapped in addiction. In this scripture, Jesus declares His mission to set the oppressed free and restore sight to the blind.
Scripture 11
"Commit your way to the LORD; trust in him, and he will act." – Psalm 37:5
True freedom from addiction comes when we commit our lives to God, trusting that He will take action and lead us to the path of recovery and restoration.
Scripture 12
"But those who hope in the LORD will renew their strength. They will soar on wings like eagles; they will run and not grow weary, they will walk and not be faint." – Isaiah 40:31
Hope is a powerful force in the recovery journey. This scripture reminds us that as we place our hope in God, He will renew our strength, enabling us to persevere without growing weary.
Scripture 13
"For God gave us a spirit not of fear but of power and love and self-control." – 2 Timothy 1:7
Addiction can leave us feeling powerless and out of control, but God has given us a spirit of power, love, and self-control. In Him, we can find the strength to overcome addiction.
Scripture 14
"Cast all your anxiety on him because he cares for you." – 1 Peter 5:7
Anxiety often accompanies addiction, but we are encouraged to cast all our worries and concerns on God. He cares deeply for us and is ready to bear our burdens.
Scripture 15
"If the Son sets you free, you will be free indeed." – John 8:36
Freedom from addiction is possible through the power of Jesus. This scripture reminds us that when we allow Him to set us free, we will experience true freedom.
Please note that these scriptures are meant to provide encouragement and support for those facing addiction. It is important to seek professional help and support from qualified professionals and support groups in conjunction with spiritual guidance.
Conclusion
In conclusion, these 15 healing scriptures for addiction provide powerful words of comfort, encouragement, and hope for those struggling with addiction. By meditating on these verses and allowing their truths to sink deep into your heart, you can find strength and guidance on your journey to recovery. Remember that healing is possible, and God's love is always available to bring restoration and transformation. As you seek His help and draw closer to Him, may these scriptures serve as a source of inspiration and encouragement, reminding you that you are never alone in your battle against addiction.