Are you suffering from chest pains and seeking solace? Look no further. In this blog post, we have compiled a list of 20 powerful healing scriptures that can bring you comfort and relief. Whether you are experiencing physical discomfort or emotional distress, these scriptures offer guidance and support in your journey towards healing. By incorporating these verses into your daily routine, you can find strength, peace, and restoration. Let's dive into these transformative words of wisdom and discover the healing power they hold.
Understanding Chest Pains
Chest pains can be a cause for concern and can lead to anxiety and worry. It's important to understand the potential causes of chest pains to better assess and manage any discomfort you may experience. In this section, we will delve into what causes chest pains and provide you with valuable insights.
What Causes Chest Pains?
Chest pains can originate from various factors, some of which may require immediate medical attention while others may be less severe. Below are some common causes of chest pains:
Heart-related issues: Chest pains are often associated with cardiovascular conditions such as angina (reduced blood flow to the heart) or a heart attack. These conditions typically involve symptoms like tightness, pressure, or a squeezing sensation in the chest.
Gastrointestinal problems: The esophagus and stomach are located in the chest area, and problems such as acid reflux or a hiatal hernia can cause chest pains. These pains may feel like a burning sensation or discomfort in the upper abdomen.
Musculoskeletal issues: Chest pains can also result from muscle strain, inflammation, or injury to the chest wall. Conditions like costochondritis (inflammation of the cartilage connecting the ribs to the sternum) or muscle spasms can produce sharp or dull chest pain.
Pulmonary conditions: Lung-related problems like pneumonia, pulmonary embolism (blockage of a lung artery), or pleurisy (inflammation of the lining around the lungs) can lead to chest pains. These may be accompanied by breathing difficulties and coughing.
Anxiety and stress: Emotional distress, panic attacks, or anxiety can manifest physically as chest pains. These pains are often described as a tightness or pressure in the chest, mimicking heart-related issues.
Other causes: Certain medications, infections, gallbladder issues, or even chest injuries can also be responsible for chest pains.
It's important to note that chest pains should not be self-diagnosed. If you experience intense or persistent chest pains, seek immediate medical attention to rule out any serious underlying conditions.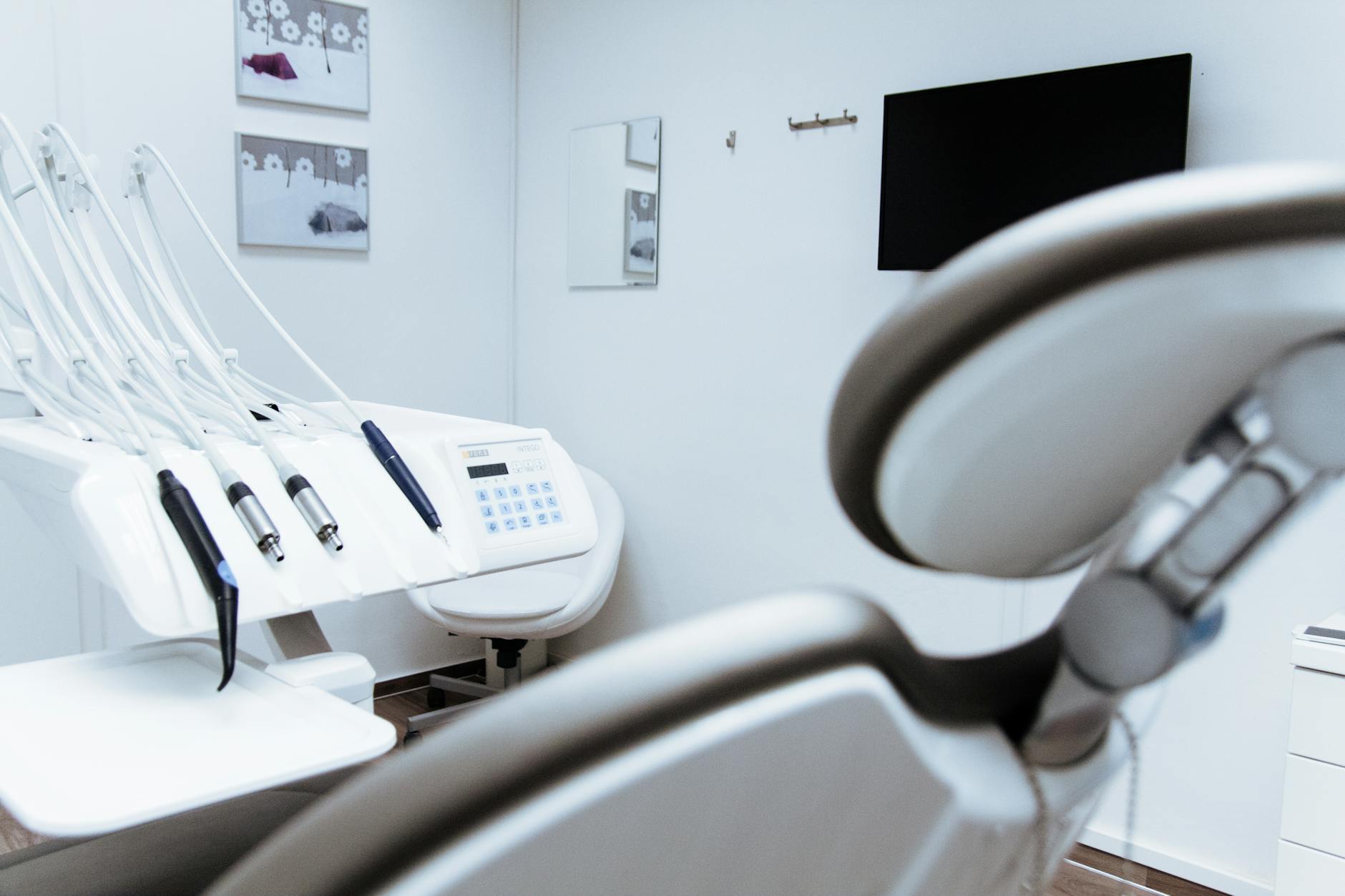 View of Clinic (Photo by Daniel Frank)
Understanding the potential causes of chest pains can help you better communicate your symptoms to your healthcare provider, leading to an accurate diagnosis and appropriate treatment. As we move forward, we'll explore healing scriptures that can offer comfort and support during times of chest pain.
The Power of Healing Scriptures
Healing scriptures have long been recognized for their powerful impact on physical and emotional health. These carefully selected passages from religious texts hold the potential to bring about healing and restoration. Understanding how healing scriptures work can provide us with the knowledge and confidence to harness their power in our own lives.
How Healing Scriptures Work
Healing scriptures are not mere words on a page; they carry spiritual energy and can act as a catalyst for transformation. When spoken, read, or meditated upon, these scriptures activate a process that goes beyond our comprehension. They have the ability to align our minds, bodies, and souls with the divine healing presence.
Through the repetition and internalization of healing scriptures, we tap into a higher power and open ourselves up to receive the healing energy that flows through them. These scriptures can help to counter negative thoughts and emotions, replacing them with positive beliefs and affirmations. By focusing our attention on the healing scriptures, we shift our mindset and create a fertile ground for the manifestation of healing and restoration.
Image: Hands clasped in prayer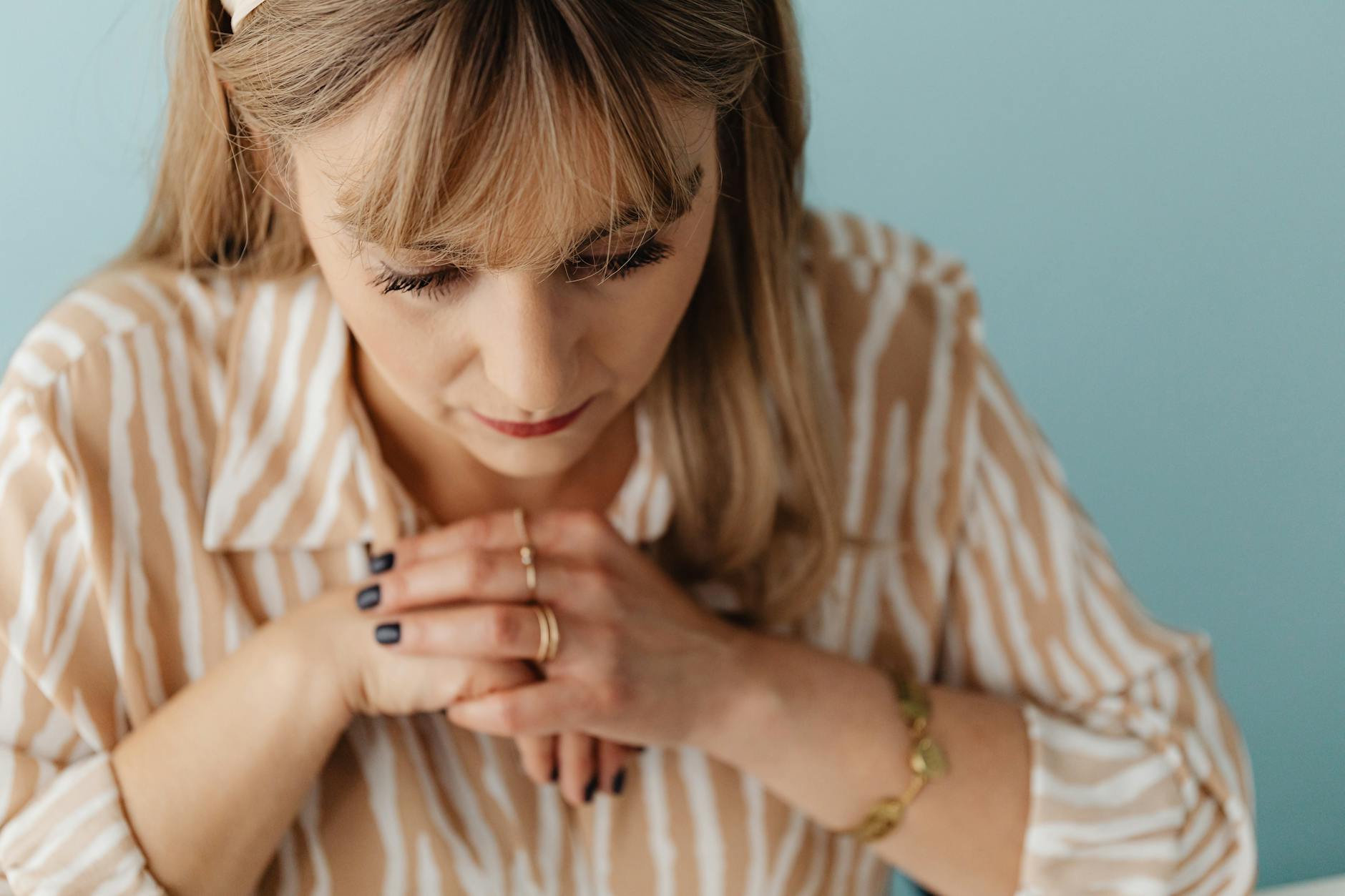 Woman with Clasped Hands Looking Down (Photo by Karolina Grabowska)
This image portrays the importance of prayer and seeking solace in a higher power. It complements the concept of healing scriptures by symbolizing the connection between our faith and the potential for healing.
Benefits of Healing Scriptures
Restoring Faith: Healing scriptures instill a sense of hope and belief in the possibility of healing, even in the face of adversity. They help to restore faith and strengthen the connection with a higher power.
Relieving Stress and Anxiety: When we focus on healing scriptures, our minds are redirected from worries and anxieties, providing a sense of calm and peace. This reduces stress levels and promotes overall well-being.
Empowering Positive Thinking: Healing scriptures encourage us to think positively and challenge negative thought patterns. They help shift our perspective towards a more optimistic outlook, which can have a profound impact on our mental and emotional health.
Promoting Physical Healing: The power of healing scriptures extends beyond the realm of emotions and thoughts. Many individuals have reported experiencing physical healing as a result of regularly engaging with these scriptures.
Creating a Supportive Community: Healing scriptures often bring people together, creating a sense of community and support. Sharing these passages with others can foster a sense of unity and collective healing.
Healing scriptures hold a unique power that can bring about transformation and restoration in our lives. By incorporating them into our daily routine, we nurture our faith, cultivate positive thoughts, and open ourselves up to the potential for healing. As we explore further, we will delve into specific healing scriptures that have been known to provide comfort and healing for chest pains.
Top 20 Healing Scriptures for Chest Pains
Chest pain can be a distressing symptom that may indicate various underlying health issues. If you are experiencing chest pains, it is important to seek medical attention promptly. In addition to medical treatment, many people find solace and strength in turning to their faith. The following scriptures offer comfort and hope for those dealing with chest pains:
Scripture 1
"He heals the brokenhearted and binds up their wounds." – Psalm 147:3
Scripture 2
"Peace I leave with you; my peace I give you. I do not give to you as the world gives. Do not let your hearts be troubled and do not be afraid." – John 14:27
Scripture 3
"The Lord is my strength and my shield; my heart trusts in him, and he helps me. My heart leaps for joy, and with my song I praise him." – Psalm 28:7
Scripture 4
"Do not be anxious about anything, but in every situation, by prayer and petition, with thanksgiving, present your requests to God. And the peace of God, which transcends all understanding, will guard your hearts and your minds in Christ Jesus." – Philippians 4:6-7
Scripture 5
"Trust in the Lord with all your heart and lean not on your own understanding; in all your ways submit to him, and he will make your paths straight." – Proverbs 3:5-6
Scripture 6
"Heal me, Lord, and I will be healed; save me and I will be saved, for you are the one I praise." – Jeremiah 17:14
Scripture 7
"Come to me, all you who are weary and burdened, and I will give you rest." – Matthew 11:28
Scripture 8
"But he said to me, 'My grace is sufficient for you, for my power is made perfect in weakness.' Therefore I will boast all the more gladly about my weaknesses, so that Christ's power may rest on me." – 2 Corinthians 12:9
Scripture 9
"I can do all this through him who gives me strength." – Philippians 4:13
Scripture 10
"The Lord is close to the brokenhearted and saves those who are crushed in spirit." – Psalm 34:18
Scripture 11
"Cast all your anxiety on him because he cares for you." – 1 Peter 5:7
Scripture 12
"In peace I will lie down and sleep, for you alone, Lord, make me dwell in safety." – Psalm 4:8
Scripture 13
"Do not let your hearts be troubled. You believe in God; believe also in me." – John 14:1
Scripture 14
"Have I not commanded you? Be strong and courageous. Do not be afraid; do not be discouraged, for the Lord your God will be with you wherever you go." – Joshua 1:9
Scripture 15
"But he was pierced for our transgressions, he was crushed for our iniquities; the punishment that brought us peace was on him, and by his wounds, we are healed." – Isaiah 53:5
Scripture 16
"The Lord is my shepherd, I lack nothing. He makes me lie down in green pastures, he leads me beside quiet waters, he refreshes my soul." – Psalm 23:1-3
Scripture 17
"He will wipe every tear from their eyes. There will be no more death or mourning or crying or pain, for the old order of things has passed away." – Revelation 21:4
Scripture 18
"Come, let us sing for joy to the Lord; let us shout aloud to the Rock of our salvation. Let us come before him with thanksgiving and extol him with music and song." – Psalm 95:1-2
Scripture 19
"But the fruit of the Spirit is love, joy, peace, forbearance, kindness, goodness, faithfulness, gentleness, and self-control. Against such things, there is no law." – Galatians 5:22-23
Scripture 20
"For I am the Lord your God who takes hold of your right hand and says to you, Do not fear; I will help you." – Isaiah 41:13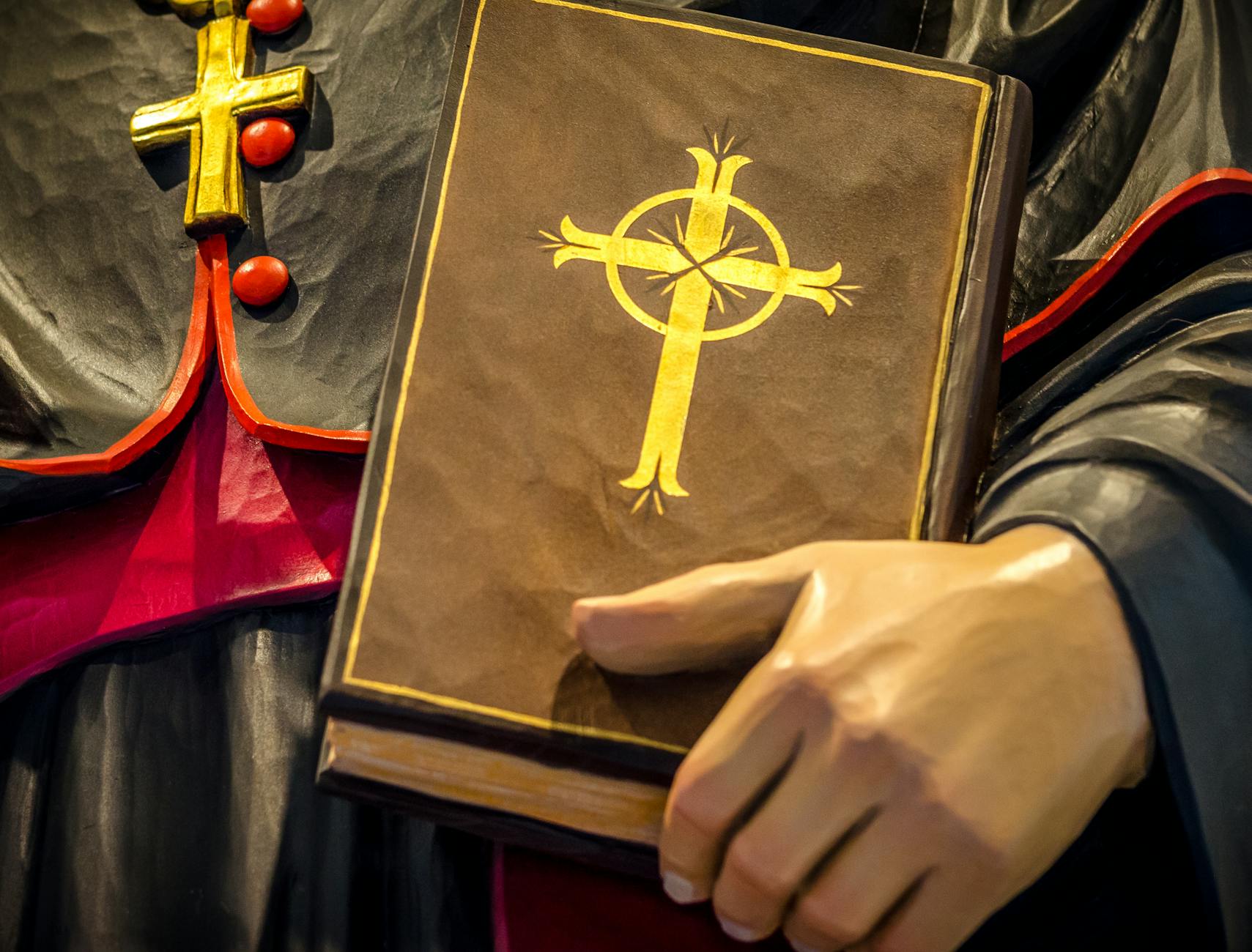 A Statue Holding A Holy Book (Photo by Joseph Fuller)
Applying Healing Scriptures in Your Life
Applying healing scriptures in your life can bring comfort, encouragement, and strength during times of chest pains or discomfort. By incorporating the power of prayer, seeking medical help, and cultivating a healthy lifestyle, you can actively participate in your own healing journey.
Praying and Meditating on Scriptures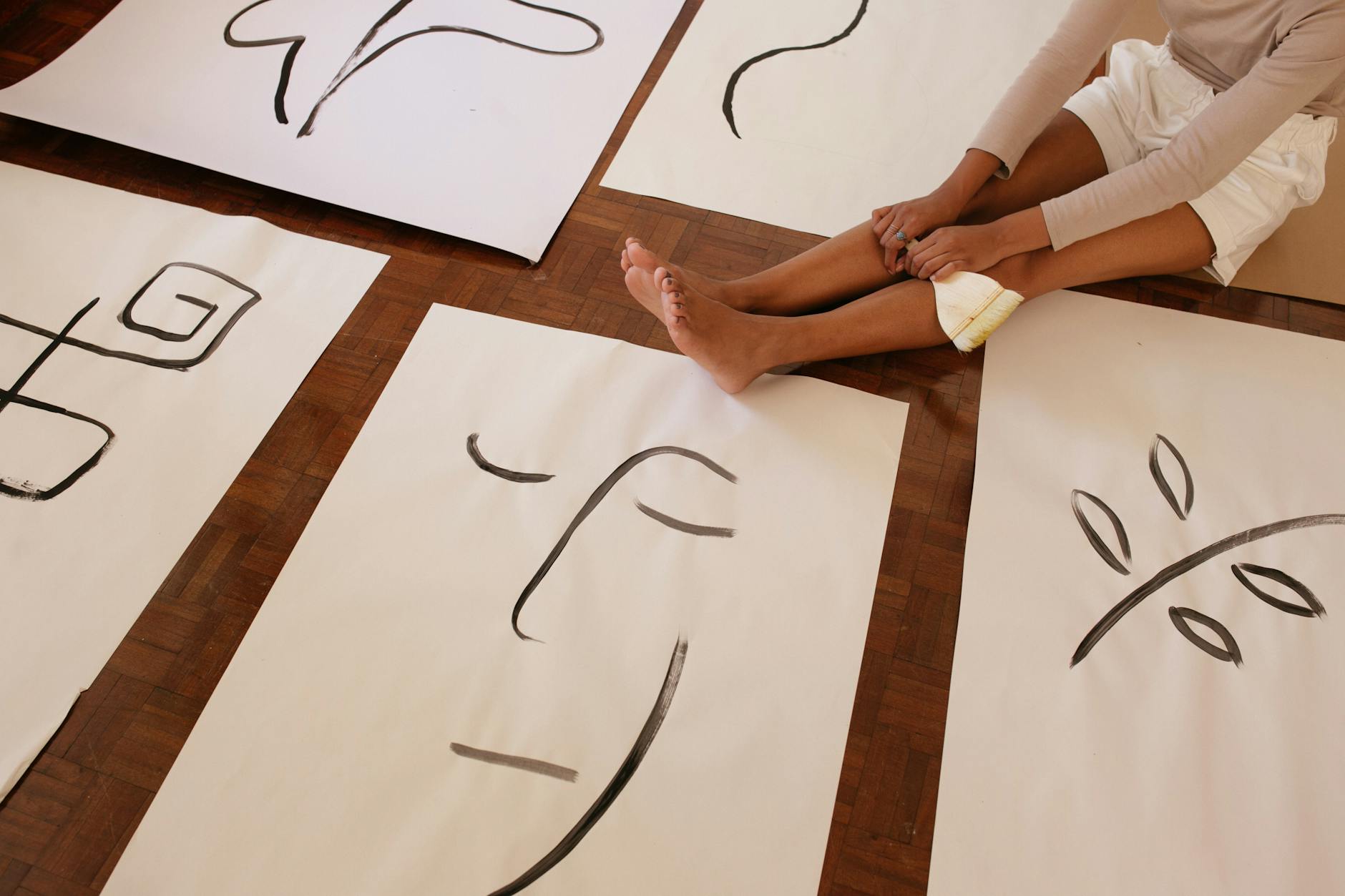 From above of faceless barefoot casually dressed woman with brush sitting on floor while placed artworks in abstract style (Photo by RF._.studio)
Praying and meditating on healing scriptures can have a profound impact on your mental and spiritual well-being. It allows you to connect with a higher power and find solace in the promises of the scriptures. Take time each day to find a quiet place, reflect on the scriptures that resonate with you, and speak them out loud or silently in prayer. Let the words of healing and restoration fill your heart and mind, providing a sense of peace and hope.
Seeking Medical Help
While praying and relying on the power of scriptures is essential, it's also important to seek professional medical help for chest pains. Consulting with a healthcare provider can help diagnose any underlying medical conditions that may be contributing to your discomfort. Remember, seeking medical assistance is not a lack of faith, but rather a responsible action towards your well-being. Trust the expertise and guidance of medical professionals who can provide appropriate care and treatment.
Cultivating a Healthy Lifestyle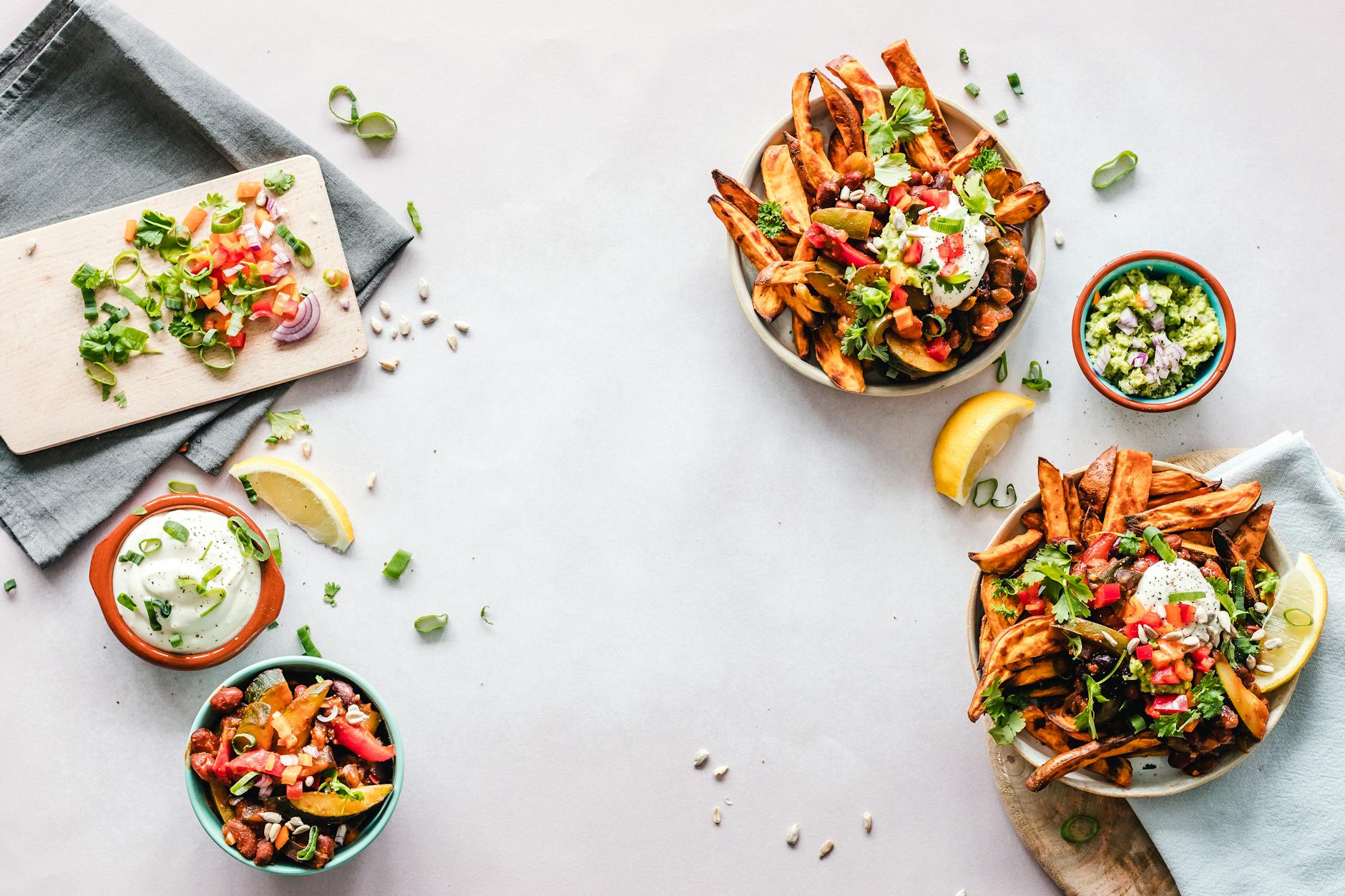 Assorted Salads on Bowls (Photo by Ella Olsson)
In addition to prayer and medical support, cultivating a healthy lifestyle can contribute to your overall well-being. This includes taking care of your physical body through regular exercise, maintaining a balanced diet, and getting enough restful sleep. Engaging in activities that reduce stress, such as practicing mindfulness or hobbies you enjoy, can also positively impact your healing process. By adopting a holistic approach to your well-being, you can support your body's natural healing abilities.
Remember, applying healing scriptures in your life is about incorporating various elements that work together synergistically. By praying and meditating on scriptures, seeking medical help, and cultivating a healthy lifestyle, you can actively participate in your journey towards healing and restoration. Trust the process and embrace the positive changes that come with it.
Conclusion
By incorporating these healing scriptures into your daily routine they can provide you with comfort and support, and healing chest pains. These powerful verses will bring encouragement, and a sense of peace during times of discomfort. It is important to remember that while these scriptures can offer solace, they should not replace proper medical care. Always consult with a healthcare professional if you are experiencing chest pains or any other health concerns. By combining the power of faith and modern medicine, you can take the necessary steps towards healing and well-being. May these scriptures bring you strength and comfort on your journey to better health.