Are you feeling constantly tired and drained? Fatigue can have a significant impact on our daily lives, affecting our productivity, mood, and overall well-being. If you're seeking natural ways to combat fatigue and boost your energy levels, look no further. In this blog post, we have compiled 20 healing scriptures for fatigue that can provide comfort, strength, and rejuvenation. These powerful verses from the Bible offer words of encouragement and guidance to help you find solace and renewal amidst exhaustion. Let's dive in and discover the restorative power of these scriptures.
Understanding Fatigue
Fatigue is a common symptom that many people experience at some point in their lives. It is characterized by a persistent feeling of physical and mental tiredness, lack of energy, and a reduced ability to perform daily activities. In this section, we will delve into what fatigue is and explore some of its common causes.
What is Fatigue?
Fatigue is not simply feeling tired after a long day or a lack of sleep. It is an ongoing state of exhaustion that is not relieved by rest or sleep. It can affect a person's overall well-being and significantly impact their quality of life. Fatigue can manifest as physical, mental, or emotional weariness and can vary in intensity from mild to severe.
Common Causes of Fatigue
There are several potential causes of fatigue, ranging from lifestyle factors to underlying medical conditions. Below are some of the most common reasons why someone may experience fatigue:
Lack of Sleep: Insufficient sleep or poor sleep quality can leave you feeling fatigued. It is important to prioritize getting enough high-quality sleep each night to maintain optimal energy levels.
Stress and Anxiety: Chronic stress or anxiety can drain your energy reserves and make you feel constantly tired. Finding healthy ways to manage stress is crucial for combating fatigue.
Poor Diet: Consuming a diet lacking in essential nutrients can contribute to fatigue. A balanced diet that includes a variety of fruits, vegetables, whole grains, and lean proteins is vital for maintaining energy levels.
Lack of Physical Activity: Leading a sedentary lifestyle can lead to fatigue as physical activity helps improve circulation and overall energy levels. Regular exercise can enhance stamina and combat fatigue.
Medical Conditions: Certain medical conditions can cause fatigue, such as anemia, thyroid disorders, chronic fatigue syndrome, fibromyalgia, and autoimmune diseases. If you suspect an underlying medical condition, it's important to consult a healthcare professional for proper diagnosis and treatment.
Medication Side Effects: Some medications have fatigue as a side effect. If you are experiencing ongoing fatigue and are taking medication, it may be worth discussing with your healthcare provider to explore alternatives.
Dehydration: Not drinking enough water can lead to dehydration, which can zap your energy levels. Stay hydrated throughout the day to maintain optimal bodily functions.
Understanding the underlying causes of fatigue can help you identify potential strategies to combat it and improve your overall energy levels. By addressing these factors and making necessary lifestyle changes, you can regain vitality and achieve a more balanced state of well-being.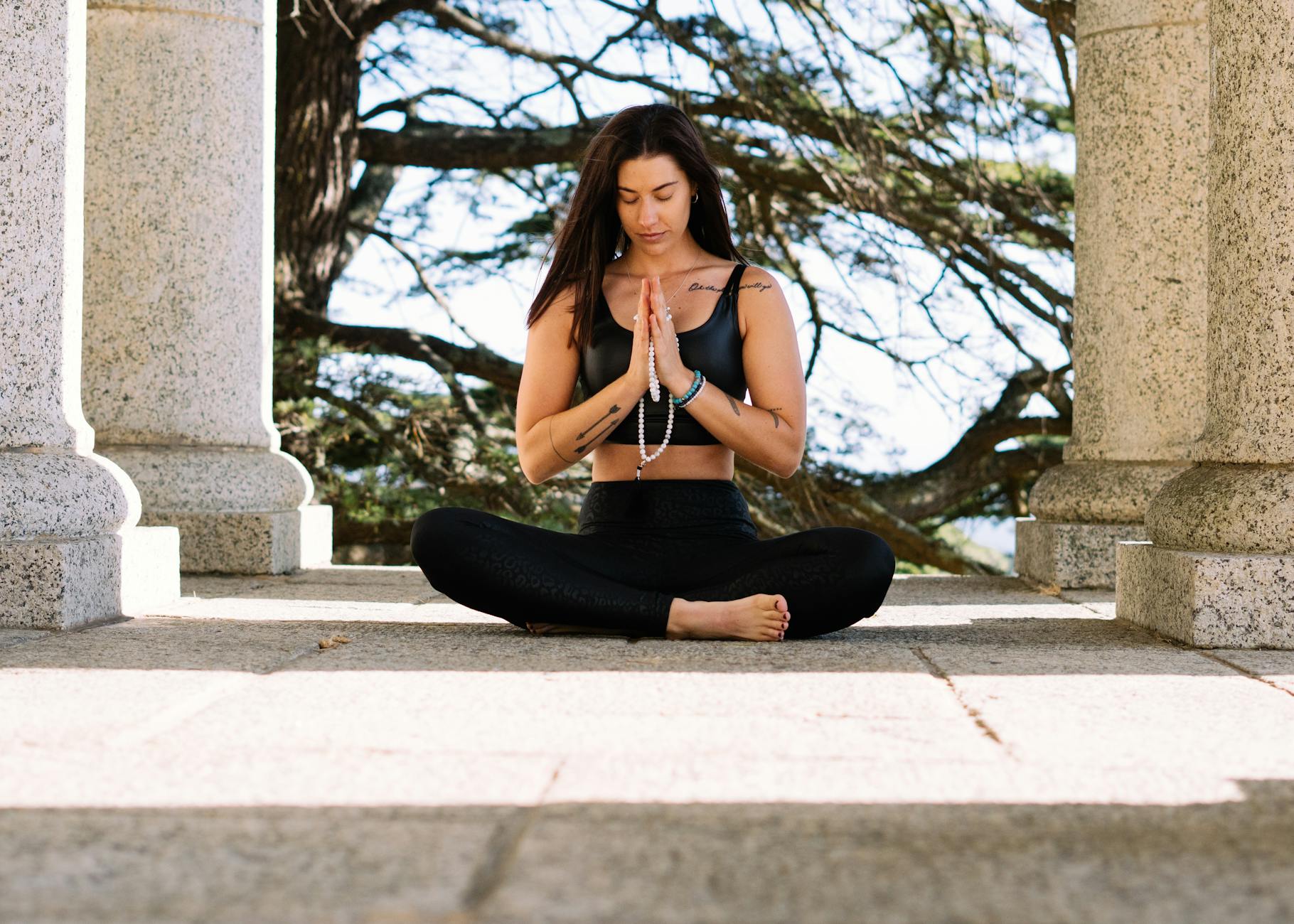 Woman in Black Tank Top and Black Pants Sitting on Concrete Floor (Photo by RF._.studio)
The Power of Scriptures for Healing
Meditating on healing scriptures can have a profound impact on our physical, emotional, and spiritual well-being. The power of scriptures lies in their ability to instill hope, provide comfort, and strengthen our faith. In this section, we will explore how scriptures can bring healing and the benefits of meditating on these powerful words.
How Scriptures Can Bring Healing
Scriptures have been revered as a source of guidance and inspiration for centuries. When it comes to healing, scriptures can play a pivotal role in restoring our health and well-being. Here are a few ways in which scriptures can bring healing:
Renewing our mindset: Reading and meditating on healing scriptures can help shift our focus away from negative thoughts and emotions. It allows us to replace doubt, fear, and anxiety with faith, hope, and confidence in God's healing power.
Finding encouragement: Scriptures offer words of encouragement, reminding us that we are not alone in our struggles. They assure us of God's presence, love, and his promise to bring healing and restoration.
Strengthening our faith: The more we immerse ourselves in the scriptures, the stronger our faith becomes. Believing in the healing power of God's word can ignite a sense of expectancy and create an atmosphere of faith that opens the door for miracles.
Providing peace and comfort: Scriptures can bring a sense of peace and comfort in times of physical or emotional pain. They remind us of God's faithfulness, his ability to heal, and his desire to see us whole and well.
Benefits of Meditating on Healing Scriptures
Meditating on healing scriptures goes beyond reading words on a page. It involves actively engaging with the text, internalizing its message, and allowing it to transform our thoughts and beliefs. Here are some benefits of regularly meditating on healing scriptures:
Increased hope: Meditating on healing scriptures injects hope into our lives. It reminds us that healing is not only possible but promised to us by God. This hope fuels our faith and allows us to persevere through challenging times.
Reduced stress: Taking time to meditate on healing scriptures can help alleviate stress and anxiety. It shifts our focus from the problem to the solution, bringing a sense of calmness and trust in God's ability to bring about healing.
Restored peace of mind: Meditating on healing scriptures can bring peace to our troubled minds. It helps us surrender our worries and concerns to God, allowing his peace that surpasses all understanding to guard our hearts and minds.
Increased spiritual strength: Regular meditation on healing scriptures strengthens our spiritual connection with God. It deepens our understanding of his character, builds intimacy in our relationship with him, and cultivates a stronger faith.
By regularly meditating on healing scriptures, we position ourselves to receive the fullness of God's healing and restoration. It is a powerful practice that aligns our hearts, minds, and spirits with his divine purposes for our lives.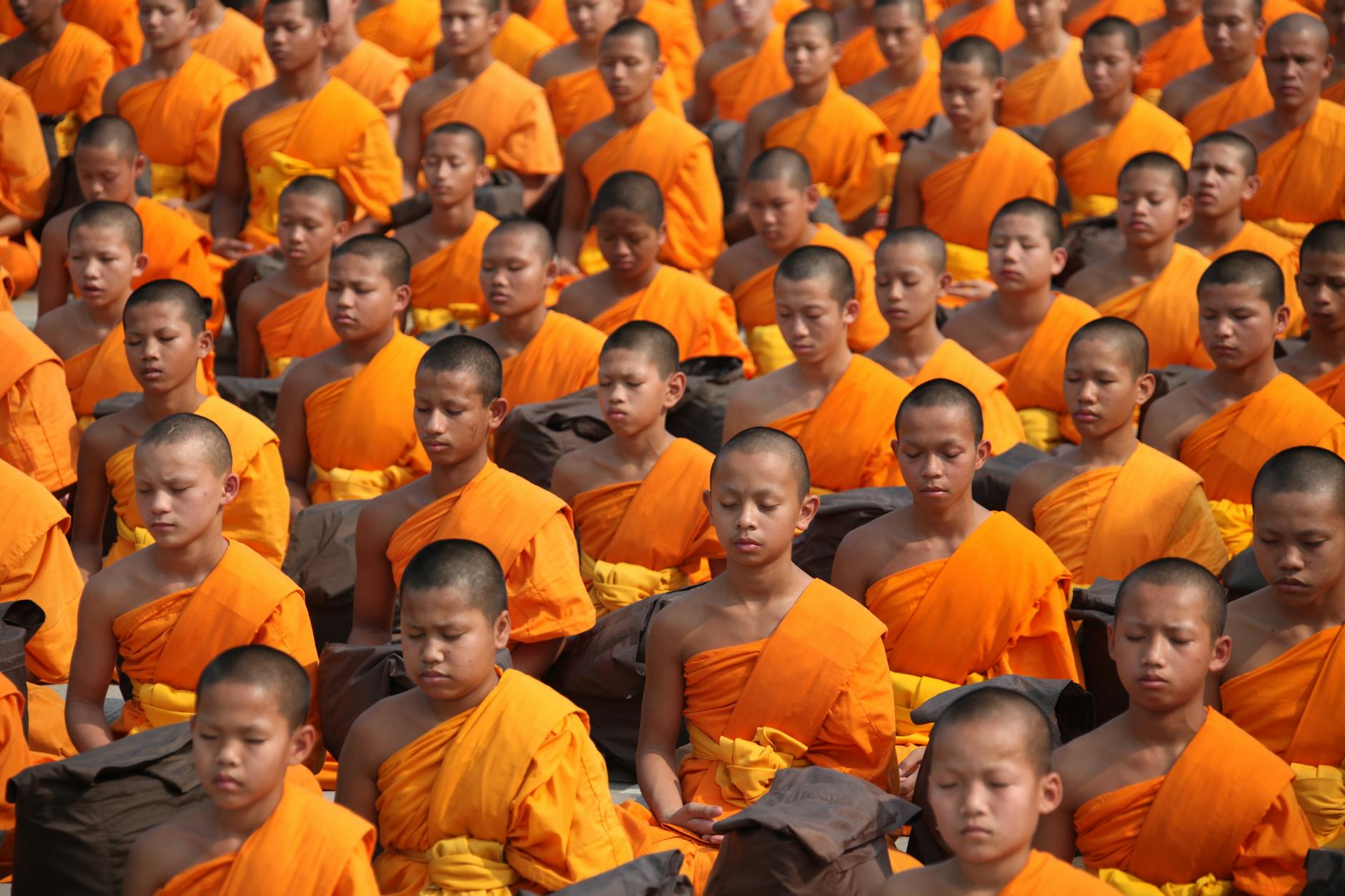 Monks Sitting (Photo by Pixabay)
20 Healing Scriptures for Fatigue
Feeling tired and drained? Dealing with fatigue can be challenging, but sometimes finding solace in the words of scripture can provide much-needed comfort and rejuvenation. Here are 20 healing scriptures to uplift your spirit and help you find strength in times of fatigue.
Scripture 1
"He gives strength to the weary and increases the power of the weak." – Isaiah 40:29
Scripture 2
"Come to me, all you who are weary and burdened, and I will give you rest." – Matthew 11:28
Scripture 3
"But those who hope in the Lord will renew their strength. They will soar on wings like eagles; they will run and not grow weary, they will walk and not be faint." – Isaiah 40:31
Scripture 4
"The Lord is my strength and my shield; my heart trusts in him, and he helps me. My heart leaps for joy, and with my song I praise him." – Psalm 28:7
Scripture 5
"I can do all this through him who gives me strength." – Philippians 4:13
Scripture 6
"Why, my soul, are you downcast? Why so disturbed within me? Put your hope in God, for I will yet praise him, my Savior and my God." – Psalm 42:11
Scripture 7
"Even youths grow tired and weary, and young men stumble and fall; but those who hope in the Lord will renew their strength. They will soar on wings like eagles; they will run and not grow weary, they will walk and not be faint." – Isaiah 40:30-31
Scripture 8
"He gives power to the faint, and to him who has no might he increases strength." – Isaiah 40:29
Scripture 9
"Do not be anxious about anything, but in every situation, by prayer and petition, with thanksgiving, present your requests to God." – Philippians 4:6
Scripture 10
"Cast your cares on the Lord and he will sustain you; he will never let the righteous be shaken." – Psalm 55:22
Scripture 11
"For God has not given us a spirit of fear and timidity, but of power, love, and self-discipline." – 2 Timothy 1:7
Scripture 12
"The Lord is my rock, my fortress, and my deliverer; my God is my rock, in whom I take refuge, my shield and the horn of my salvation, my stronghold." – Psalm 18:2
Scripture 13
"He gives his beloved sleep." – Psalm 127:2
Scripture 14
"Have I not commanded you? Be strong and courageous. Do not be afraid; do not be discouraged, for the Lord your God will be with you wherever you go." – Joshua 1:9
Scripture 15
"But the Lord stood at my side and gave me strength, so that through me the message might be fully proclaimed and all the Gentiles might hear it. And I was delivered from the lion's mouth." – 2 Timothy 4:17
Scripture 16
"I am worn out, Lord; come and rescue me. Take away my troubles, for I am helpless." – Psalm 109:22
Scripture 17
"I lift up my eyes to the mountains—where does my help come from? My help comes from the Lord, the Maker of heaven and earth." – Psalm 121:1-2
Scripture 18
"The Lord is my shepherd, I lack nothing. He makes me lie down in green pastures, he leads me beside quiet waters, he refreshes my soul." – Psalm 23:1-3
Scripture 19
"But he said to me, 'My grace is sufficient for you, for my power is made perfect in weakness.' Therefore I will boast all the more gladly about my weaknesses, so that Christ's power may rest on me." – 2 Corinthians 12:9
Scripture 20
"And let us not grow weary of doing good, for in due season we will reap, if we do not give up." – Galatians 6:9
Remember, these scriptures are like a well of hope and encouragement for those experiencing fatigue. Take some time each day to reflect on these verses, meditate on their meaning, and let the words renew your spirit and provide strength during challenging times.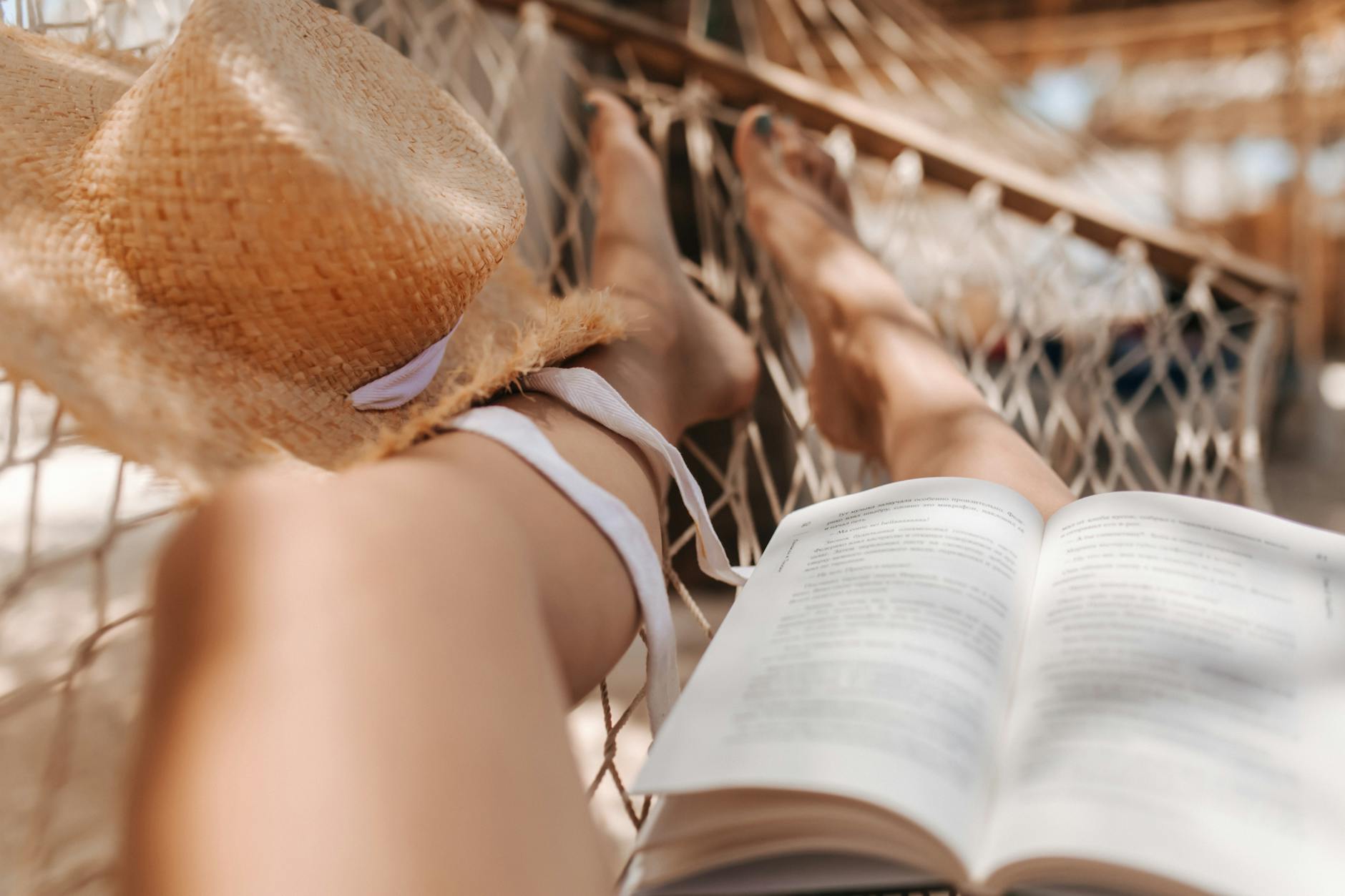 A Book and a Straw Hat on a Woman's Legs (Photo by Pavel Danilyuk)
Conclusion
These 20 healing scriptures for fatigue offer a source of comfort and strength for those struggling with exhaustion. By turning to the wisdom and guidance found in these verses, individuals can find solace and encouragement to overcome fatigue and regain their energy. It is essential to remember that healing is a gradual process, and implementing these scriptures into daily life can bring about a positive transformation. So, whether you are physically, mentally, or emotionally drained, take solace in the powerful words of these scriptures and allow them to renew your spirit and revitalize your body. Trust in the healing power of these scriptures and let them guide you towards a life filled with energy and vitality.