Are you seeking solace and strength in times of illness or physical challenges? Look no further than the timeless wisdom found in the scriptures. In this blog post, we will explore 20 healing scriptures that can provide comfort, hope, and inspiration on your journey towards improved health and vitality. Whether you're facing a specific ailment or simply desire overall well-being, these powerful verses offer guidance and encouragement. Let's delve into the transformative power of these healing words and discover how they can bring healing and strength to your life.
The Power of Healing Scriptures
In times of struggle, sickness, or weakness, turning to healing scriptures can provide comfort and strength. The power of these scriptures lies in their ability to activate faith and bring about healing, both physically and spiritually. Understanding the role of faith in healing and how scriptures can bring health and strength is key to fully utilizing this powerful resource.
Understanding the Role of Faith in Healing
Faith plays a vital role in the healing process. It is the firm belief and trust in God's power to bring about restoration and wholeness. When faced with health challenges, having unwavering faith can create a foundation for healing to manifest.
Having faith means acknowledging that God is able to do the impossible and believing that He will intervene in our circumstances. It is this confident assurance that helps us overcome doubts, fears, and discouragement. By holding onto our faith in times of sickness, we open the door for God's healing power to work in our lives.
How Scriptures Can Bring Health and Strength
Scriptures have an inherent power to bring health and strength to our bodies, minds, and spirits. They contain divine promises, words of encouragement, and testimonies of miraculous healings. When we immerse ourselves in these teachings, we align our thoughts and beliefs with God's truth, allowing His healing power to flow through us.
Reading and meditating on healing scriptures can cultivate a mindset of hope, positivity, and resilience. It reminds us of God's love, care, and ability to restore what is broken. By internalizing these scriptures, we strengthen our faith and activate it to bring about healing in our lives.
Here are a few key ways in which scriptures can bring health and strength:
Renewing the Mind: Scriptures have the power to renew our minds and transform our thinking patterns. As we meditate on God's promises of healing, we replace doubt, fear, and negativity with faith, hope, and positivity. This renewal of the mind sets the foundation for healing to take place.
Providing Comfort and Peace: In times of illness or weakness, finding comfort and peace is crucial. Healing scriptures offer solace and assurance that God is with us in our struggles. They remind us that we are not alone and that we can find rest and peace in His presence.
Building Confidence: Scriptures instill confidence in us as we face health challenges. They remind us of God's faithfulness, His track record of healing, and His desire for our well-being. By internalizing these truths, we cultivate a confident expectation that God will bring about healing in our lives.
Strengthening Prayer: Healing scriptures provide a solid foundation for our prayers. As we align our prayers with God's promises, we pray with conviction and authority, knowing that His Word will not return void. By incorporating scriptures into our prayers, we tap into a source of divine power that brings about transformation.
Inspiring Hope and Perseverance: Illness or weakness can sometimes bring discouragement and a sense of hopelessness. Healing scriptures inspire hope and perseverance, reminding us that our current circumstances do not define our future. They encourage us to press on, believing that God's healing touch is within reach.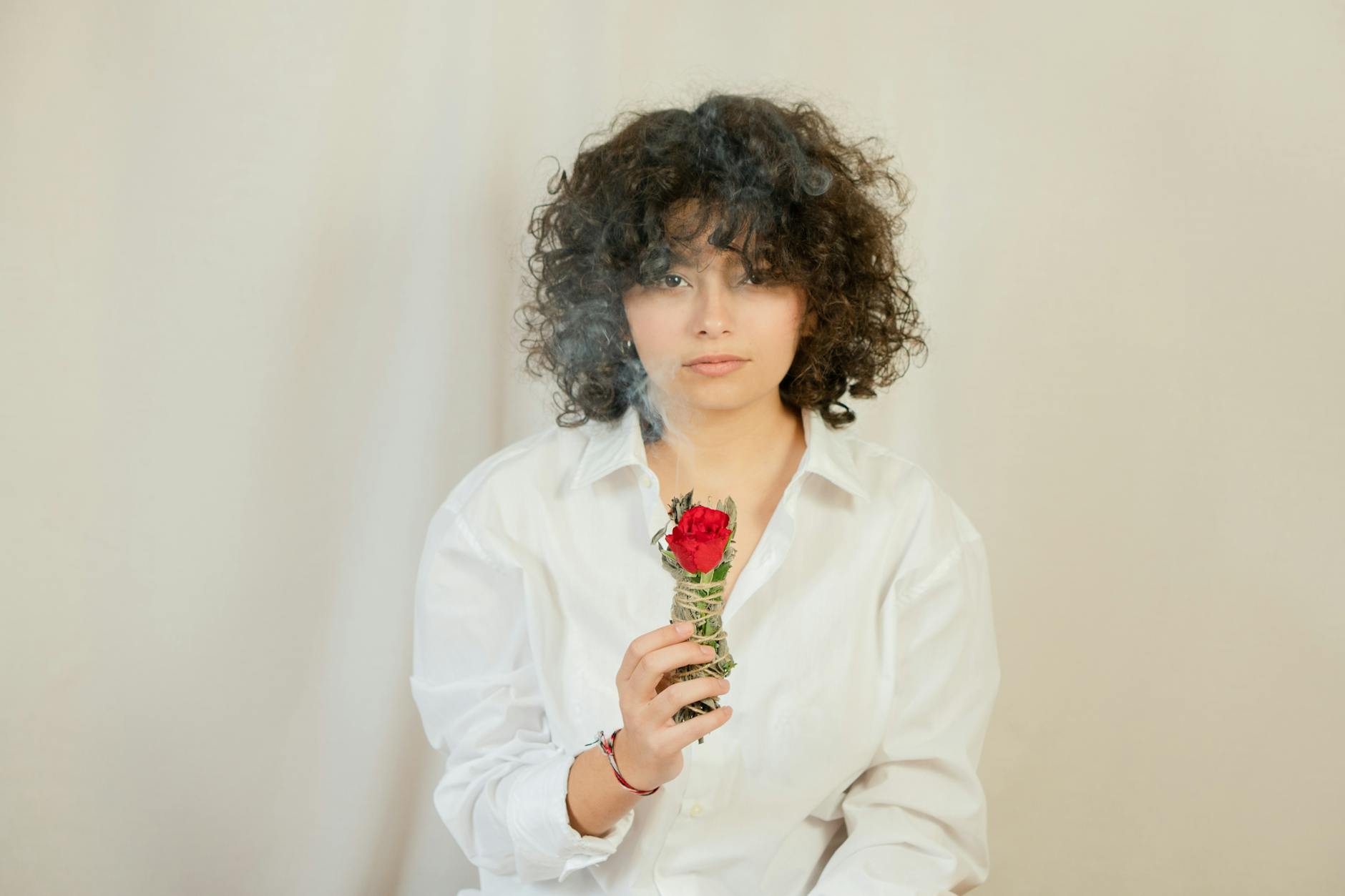 Photo of a Woman with Brown Curly Hair Holding a Smudge Stick (Photo by Olha Ruskykh)
By understanding the role of faith in healing and embracing the power of healing scriptures, we can open ourselves up to the possibility of experiencing divine healing and strength. These scriptures serve as a guiding light and a source of encouragement, helping us navigate through challenging times with unwavering hope and faith.
Related:
Healing Scriptures for Physical Health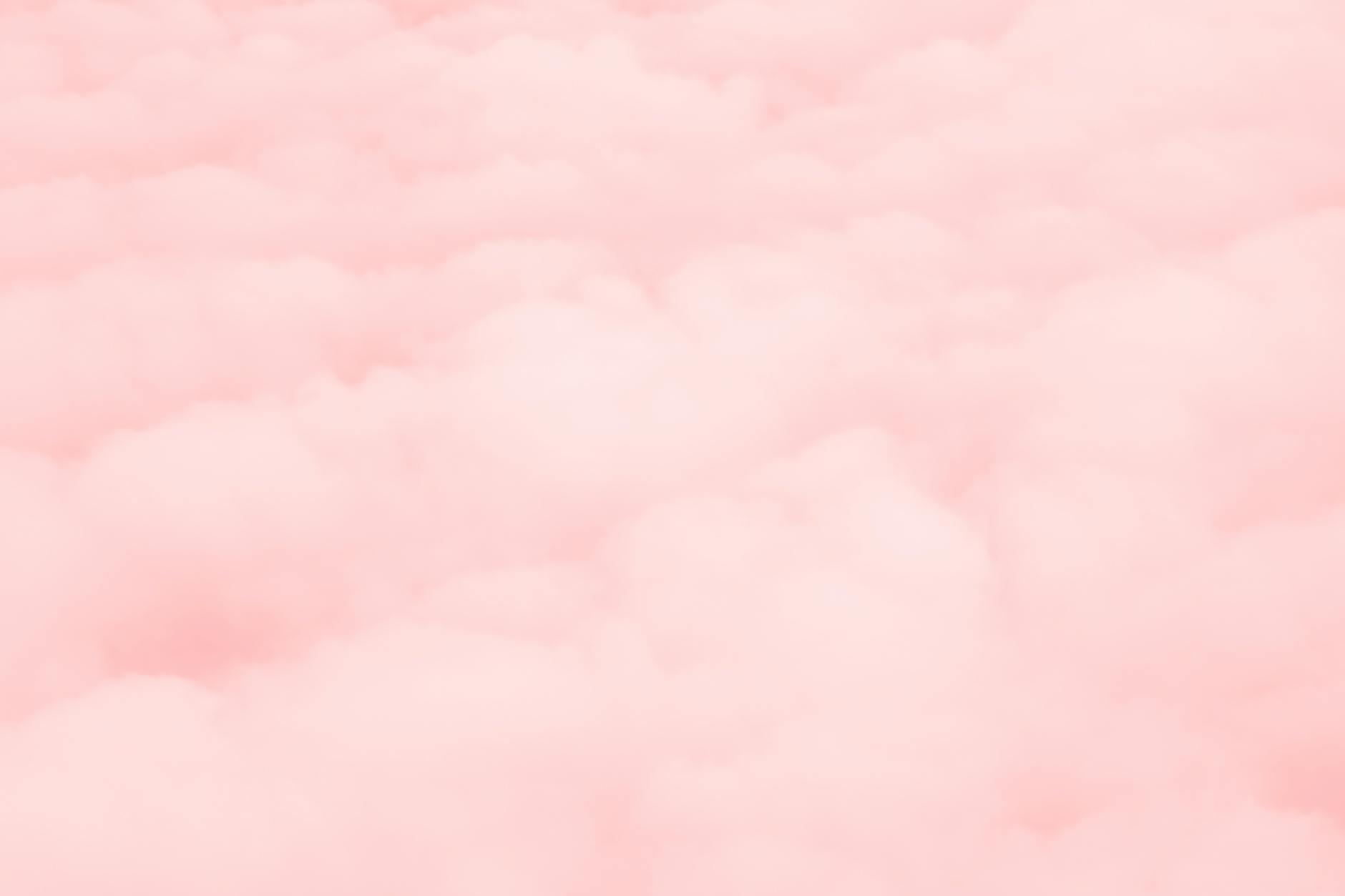 Pink Clouds (Photo by Madison Inouye)
When it comes to physical health, finding strength and healing is often sought after. The power of healing scriptures can provide comfort and encouragement during challenging times. Let's explore a few powerful verses from the Bible that speak specifically to physical health.
Psalm 103
Psalm 103 is a beautiful passage that reminds us of God's compassion and ability to heal. The verses in this chapter emphasize the Lord's role in healing physical ailments and renewing our strength. It is a comforting reminder that our bodies are fearfully and wonderfully made.
Isaiah 53
Isaiah 53 is a prophetic chapter that speaks of the suffering and redemption of Jesus Christ. Within this passage, we find verses that highlight the healing aspect of His sacrifice. These verses remind us that by His wounds, we are healed. It serves as a powerful declaration of faith in God's ability to restore and heal our bodies.
Exodus 15
Exodus 15 is a song of praise and victory over the enemy. It recounts the miraculous deliverance of Israel from the hands of Pharaoh and his army. In this chapter, we find verses that highlight God as our healer. These verses serve as a reminder that the same God who brought physical healing to His people can also bring healing to our bodies.
James 5
James 5 is a chapter that focuses on the power of prayer and the importance of seeking healing through faith. It encourages believers to call upon the elders of the church to pray for them when they are sick. The verses in this chapter remind us that prayers offered in faith have the power to bring about healing and restoration.
Proverbs 4
Proverbs 4 is a chapter that emphasizes the importance of wisdom and understanding. It encourages readers to hold on to wisdom as it brings life, healing, and health to the body. The verses in this chapter serve as a reminder that seeking wisdom and understanding can have a positive impact on our physical well-being.
These scriptures provide assurance that God cares about our physical health and has the power to bring healing and restoration. They serve as a source of hope and encouragement, reminding us to turn to God in times of sickness and trust in His ability to heal.
Remember, these verses are not magical incantations but rather words that can strengthen our faith and remind us of God's goodness. They are meant to be read, meditated upon, and spoken over ourselves and others in faith.
In the next sections, we will explore more healing scriptures that address emotional well-being and spiritual strength. Stay tuned for more uplifting and comforting verses to encourage you on your journey to health and wholeness.
Healing Scriptures for Emotional Strength
Emotional strength is essential for navigating the ups and downs of life. In times of emotional distress, finding solace in the words of scripture can provide comfort and healing. Here are five powerful healing scriptures that can help strengthen your emotional well-being:
Psalm 34
"The Lord is close to the brokenhearted and saves those who are crushed in spirit." (Psalm 34:18)
The book of Psalms is filled with verses that offer comfort and encouragement during times of emotional turmoil. This particular verse reminds us that even when we feel brokenhearted and crushed, God is near to us. He sees our pain and is ready to save and heal us.
Isaiah 41
"So do not fear, for I am with you; do not be dismayed, for I am your God. I will strengthen you and help you; I will uphold you with my righteous right hand." (Isaiah 41:10)
When we are overwhelmed by fear and anxiety, this verse from Isaiah reminds us of God's constant presence in our lives. He promises to strengthen and support us, holding us up with His righteous hand. Knowing that God is with us can bring immense emotional strength and peace.
2 Corinthians 1
"Praise be to the God and Father of our Lord Jesus Christ, the Father of compassion and the God of all comfort, who comforts us in all our troubles, so that we can comfort those in any trouble with the comfort we ourselves receive from God." (2 Corinthians 1:3-4)
This verse in 2 Corinthians reassures us that God is the ultimate source of comfort in our lives. He is compassionate and understands our troubles intimately. Through His comfort, we not only find strength for ourselves but also gain the ability to extend compassion and support to others who may be struggling emotionally.
Psalm 147
"He heals the brokenhearted and binds up their wounds." (Psalm 147:3)
The healing power of God is beautifully expressed in this verse from Psalm 147. When our hearts are broken and wounded, God is there to bind up our wounds and bring healing. This scripture reminds us that no matter how deep our emotional pain may be, God has the power to mend and restore us.
Philippians 4
"Do not be anxious about anything, but in every situation, by prayer and petition, with thanksgiving, present your requests to God. And the peace of God, which transcends all understanding, will guard your hearts and your minds in Christ Jesus." (Philippians 4:6-7)
Anxiety can greatly affect our emotional well-being, but this passage from Philippians offers a remedy. It encourages us to bring our worries and concerns to God through prayer, expressing gratitude along with our requests. God's peace, which surpasses all comprehension, will then guard our hearts and minds, providing emotional strength and tranquility.
Remember, meditating on these healing scriptures and allowing their truths to penetrate your heart can bring about emotional healing and strength. Let the reassuring words of God's love and comfort guide you through any emotional turmoil you may face.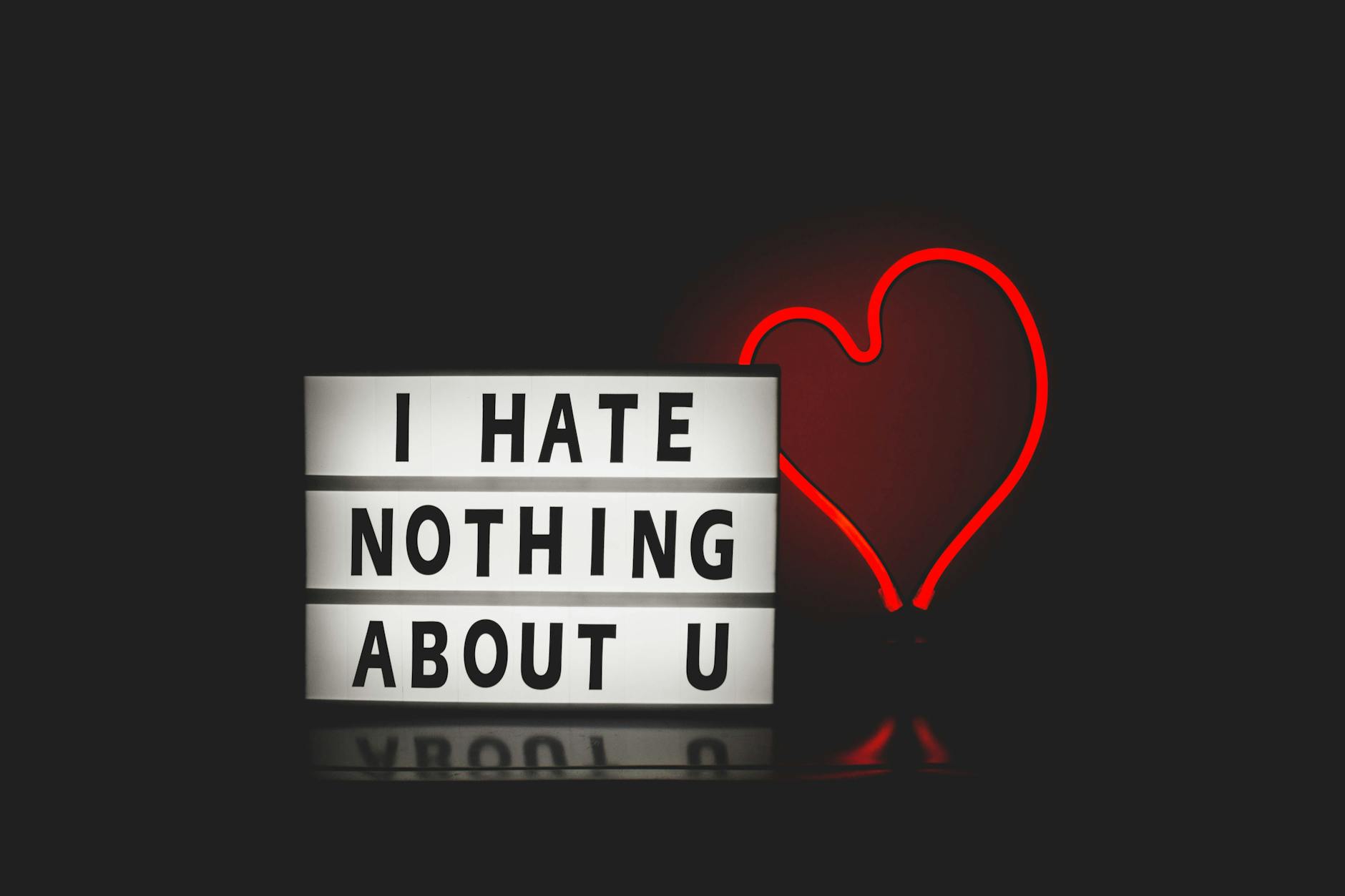 I Hate Nothing About You With Red Heart Light (Photo by Designecologist)
Healing Scriptures for Spiritual Restoration
Spiritual restoration is an essential aspect of overall well-being. Nurturing our spiritual health can bring forth healing and strength in times of difficulty. In this section, we will explore a selection of powerful scriptures that provide solace and renewal to our spirits. Let's dive in:
Psalm 51
"Create in me a clean heart, O God, and renew a right spirit within me." – Psalm 51:10
Psalm 51 is a beautiful prayer of repentance and reconciliation with God. It reminds us of the importance of acknowledging our mistakes and seeking restoration. This scripture teaches us that when we humbly ask for a clean heart and a renewed spirit, God is faithful to answer our plea.
Ezekiel 36
"I will give you a new heart, and a new spirit I will put within you." – Ezekiel 36:26
In Ezekiel 36, God promises to give us a new heart and a new spirit. This scripture emphasizes the transformative power of divine intervention. It serves as a source of encouragement, reminding us that even in our brokenness, God can restore us and bring about a profound spiritual renewal.
James 4
"Draw near to God, and he will draw near to you." – James 4:8
The book of James urges us to draw near to God and seek His presence. When we actively pursue a relationship with our Creator, we open ourselves up to His healing and restoring grace. This scripture reminds us that by approaching God with sincerity, we invite His love and strength into our lives.
1 Peter 2
"He himself bore our sins in his body on the tree, that we might die to sin and live to righteousness." – 1 Peter 2:24
1 Peter 2 highlights the redemptive work of Jesus Christ, who bore our sins and offered us the opportunity to be free from the burden of guilt. This scripture speaks to the restorative power of Christ's sacrifice and encourages us to embrace righteousness and live a life that reflects His love.
Jeremiah 30
"For I will restore health to you, and your wounds I will heal, declares the Lord." – Jeremiah 30:17
Jeremiah 30 reassures us of God's promise to restore our health and heal our wounds. This scripture serves as a comforting reminder that God is aware of our pain and suffering, and He is actively working towards our restoration. It instills hope and reminds us that our Heavenly Father cares deeply for our well-being.
By meditating on these healing scriptures, we can find solace in times of spiritual distress. They remind us of God's faithfulness, His desire to restore us, and His ability to bring about renewal in our lives. As we seek spiritual restoration, let us hold onto these timeless words of comfort and let them guide us towards a deeper connection with our Heavenly Father.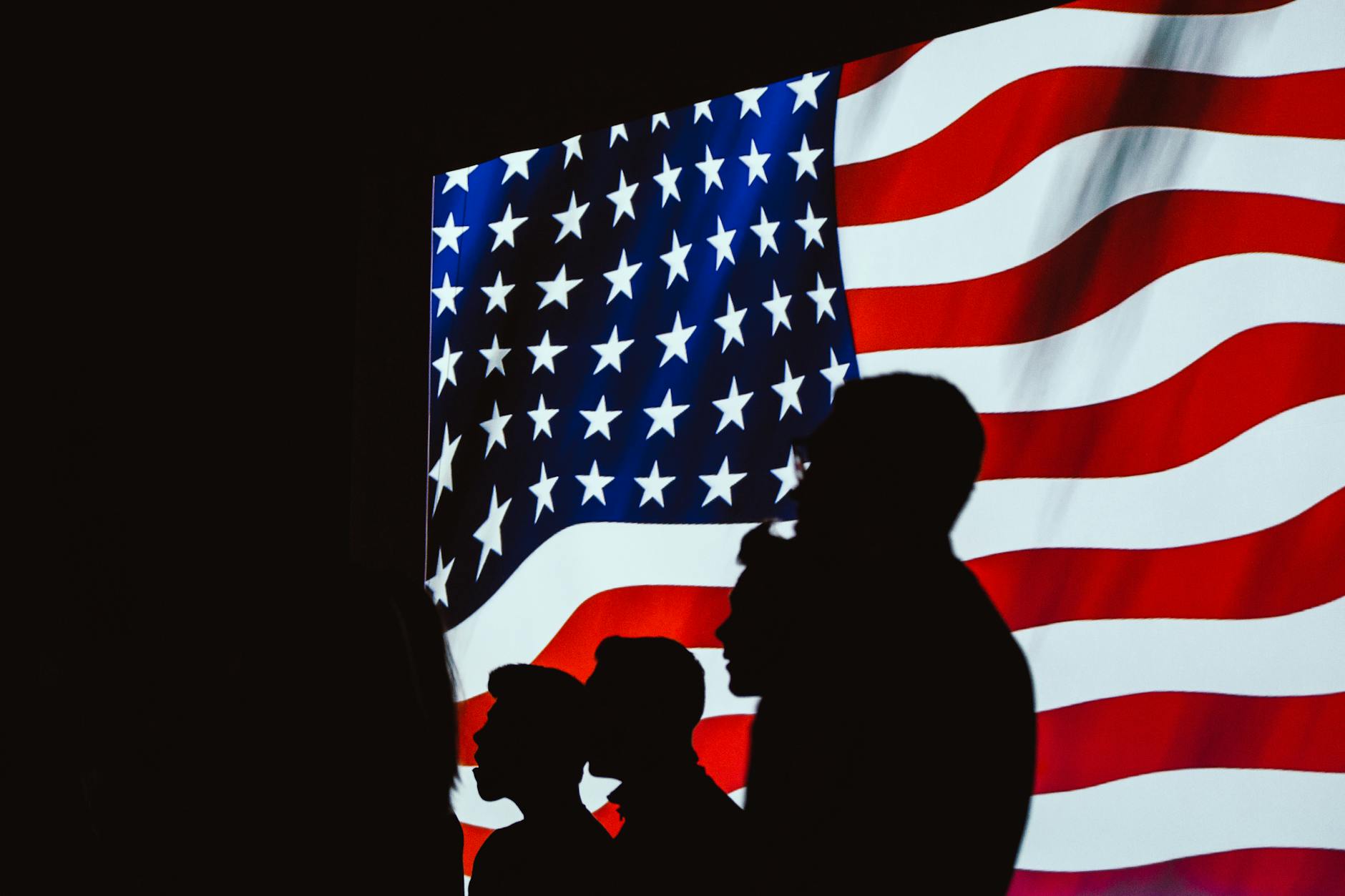 Silhouette of People Beside Usa Flag (Photo by Brett Sayles)
Final Words
In conclusion, incorporating healing scriptures into your life can provide a powerful source of comfort, strength, and encouragement for your health and well-being. The scriptures mentioned in this article offer a range of promises and guidance that can support your journey towards physical and emotional healing. Remember to meditate on these scriptures regularly, allowing their words to penetrate your heart and mind. As you embrace these healing scriptures, you can find solace and strength in the promises of God. May you experience the transformative power of these scriptures as you seek health and strength in your life.