Non-Hodgkin lymphoma is a challenging disease that affects many individuals worldwide. If you or a loved one are facing this diagnosis, finding solace and strength in healing scriptures can provide a sense of comfort and hope.
In this blog post, we have curated a powerful collection of 20 healing scriptures for Non-Hodgkin lymphoma that can serve as a source of encouragement during this difficult journey.
These scriptures offer words of reassurance, resilience, and faith, reminding us of the healing power that can be found in the divine. Let us delve into these verses and discover the profound impact they can have on our well-being.
Understanding Non-Hodgkin Lymphoma
Non-Hodgkin lymphoma is a type of cancer that affects the lymphatic system, which plays a crucial role in the immune system. This condition occurs when the body's white blood cells, known as lymphocytes, grow and multiply uncontrollably.
Definition and Causes of Non-Hodgkin Lymphoma
Non-Hodgkin lymphoma, often abbreviated as NHL, is a group of cancers that originate in the lymphocytes. These cancerous cells can develop in various parts of the body, including the lymph nodes, bone marrow, spleen, and other organs of the lymphatic system.
The exact cause of Non-Hodgkin lymphoma is not yet fully understood. However, several factors are known to increase the risk of developing this condition:
Weakened immune system: Individuals with a weakened immune system, such as those with HIV/AIDS or those who have undergone an organ transplant and are taking immunosuppressive medications, have a higher risk of developing Non-Hodgkin lymphoma.
Age: The risk of developing Non-Hodgkin lymphoma increases with age, with the majority of cases occurring in individuals over 60 years old.
Exposure to certain chemicals and substances: Prolonged exposure to certain chemicals, such as pesticides, solvents, and certain herbicides, may increase the risk of developing Non-Hodgkin lymphoma.
Infections: Certain viral and bacterial infections, such as Epstein-Barr virus, hepatitis C virus, and Helicobacter pylori, have been linked to an increased risk of Non-Hodgkin lymphoma.
Understanding the potential causes of Non-Hodgkin lymphoma can help individuals take necessary precautions and make informed decisions about their health.
Non-Hodgkin Lymphoma Treatment Options
Treatment for Non-Hodgkin lymphoma depends on various factors, including the stage and subtype of the cancer, as well as the individual's overall health. The main goal of treatment is to eliminate or control the cancer while minimizing side effects.
Common treatment options for Non-Hodgkin lymphoma include:
Chemotherapy: This involves the use of powerful medications that kill cancer cells. Chemotherapy may be administered orally, intravenously, or through other methods, and it often involves a combination of drugs.
Immunotherapy: Immunotherapy works by stimulating the body's immune system to recognize and destroy cancer cells. This treatment can be given as injections, infusions, or medications.
Radiation therapy: Radiation therapy uses high-energy beams to target and destroy cancer cells. This treatment may be used alone or in combination with other therapies.
Targeted therapy: Targeted therapy focuses on specific genetic or molecular changes in cancer cells, aiming to disrupt their growth and survival. These drugs are often taken orally or through intravenous infusion.
Stem cell transplant: In some cases, a stem cell transplant may be recommended to replace damaged or destroyed bone marrow cells with healthy ones.
It is essential for individuals diagnosed with Non-Hodgkin lymphoma to consult with oncologists or hematologists who specialize in this type of cancer. These healthcare professionals can provide personalized treatment plans based on the individual's specific circumstances.
Just as physical treatments and therapies play a crucial role in the healing process, spiritual practices can also provide solace, strength, and hope to individuals facing health challenges like Non-Hodgkin lymphoma. One such spiritual practice that has been found to have a profound impact on healing is the use of scriptures. The power of scriptures lies in their ability to uplift our spirits, cultivate faith, and provide a source of inspiration during difficult times.
Scriptures for Strength and Courage
In moments of fear and uncertainty, scriptures can serve as a source of strength and courage. They remind us that we are not alone in our struggles and that there is a greater power watching over us. Here are a few scriptures that can help instill strength and courage:
Psalm 27:1 – "The LORD is my light and my salvation; whom shall I fear? The LORD is the stronghold of my life; of whom shall I be afraid?"
Isaiah 41:10 – "Fear not, for I am with you; be not dismayed, for I am your God; I will strengthen you, I will help you, I will uphold you with my righteous right hand."
Joshua 1:9 – "Have I not commanded you? Be strong and courageous. Do not be frightened, and do not be dismayed, for the LORD your God is with you wherever you go."
These scriptures can serve as a source of encouragement, reminding individuals that they have the strength within them to face the challenges that come their way.
Scriptures for Physical Healing
In the quest for physical healing, scriptures can provide comfort and hope. They offer reassurance that divine intervention is possible and that healing can be obtained. Here are a few scriptures that can be meditated upon for physical healing:
Isaiah 53:5 – "But he was pierced for our transgressions; he was crushed for our iniquities; upon him was the chastisement that brought us peace, and with his wounds, we are healed."
James 5:14-15 – "Is anyone among you sick? Let them call the elders of the church to pray over them and anoint them with oil in the name of the Lord. And the prayer offered in faith will make the sick person well; the Lord will raise them up."
Psalm 103:2-3 – "Bless the LORD, O my soul, and forget not all his benefits, who forgives all your iniquity, who heals all your diseases."
By meditating on these scriptures, individuals can find solace and hope, believing in the possibility of physical healing.
Scriptures for Emotional Healing
Emotional healing is an integral part of the overall healing process. Scriptures can provide comfort and healing to the soul, offering peace and restoring emotional well-being. Here are a few scriptures that can aid in emotional healing:
Psalm 34:17-18 – "The righteous cry out, and the LORD hears them; he delivers them from all their troubles. The LORD is close to the brokenhearted and saves those who are crushed in spirit."
Matthew 11:28-30 – "Come to me, all you who are weary and burdened, and I will give you rest. Take my yoke upon you and learn from me, for I am gentle and humble in heart, and you will find rest for your souls."
Psalm 147:3 – "He heals the brokenhearted and binds up their wounds."
These scriptures can bring comfort, healing, and restoration to individuals who are experiencing emotional turmoil.
Scriptures for Faith and Hope
Faith and hope are essential elements in any healing journey. Scriptures can ignite and strengthen these qualities, providing a foundation for believing in the possibility of healing. Here are a few scriptures that can inspire faith and hope:
Hebrews 11:1 – "Now faith is confidence in what we hope for and assurance about what we do not see."
Romans 15:13 – "May the God of hope fill you with all joy and peace in believing, so that by the power of the Holy Spirit you may abound in hope."
Jeremiah 29:11 – "For I know the plans I have for you," declares the LORD, "plans to prosper you and not to harm you, plans to give you hope and a future."
By embracing these scriptures of faith and hope, individuals can experience a renewed sense of purpose and optimism in their healing journey.
Remember, the power of scriptures lies not only in their words but in our willingness to receive them and allow them to transform our hearts and minds. They offer a guiding light during times of darkness, providing strength, comfort, and hope on the path to healing.
Applying Healing Scriptures to Non-Hodgkin Lymphoma
As someone facing the challenges of Non-Hodgkin lymphoma, you may be seeking comfort and hope in various aspects of your life, including your faith. One way to find solace and strength is by applying healing scriptures to your situation. Personalizing healing scriptures, praying with them, and meditating on their powerful messages can provide a sense of peace and encouragement throughout your journey.
Personalizing Scriptures for Healing
When applying healing scriptures to Non-Hodgkin lymphoma, it's important to personalize them to your specific circumstances. Remember that these scriptures are not just words on a page, but messages of hope and restoration. Take a moment to reflect on the following:
Embrace the promises: Consider verses that speak directly to healing, such as Psalm 103:2-3, which states, "Bless the Lord, O my soul, and forget not all his benefits, who forgives all your iniquity, who heals all your diseases." Personalize this verse by internalizing it and repeating it to yourself.
Replace "you" with "I": Instead of simply reading the scriptures in a general sense, make them personal by replacing pronouns. For example, in Jeremiah 30:17, which says, "For I will restore health to you, and your wounds I will heal," replace "you" with "I" to affirm the scripture's promise for your own healing.
Declare the scriptures out loud: Speaking healing scriptures out loud can have a powerful effect on your mindset and spirit. Proclaiming these verses with confidence and conviction can help reinforce your faith and affirm your belief in God's healing power.
Praying with Scriptures for Non-Hodgkin Lymphoma
Prayer is a powerful tool for healing and finding strength during difficult times. When praying with healing scriptures for Non-Hodgkin lymphoma, consider the following:
Use scriptures as a guide: Incorporate healing scriptures into your prayers as a way to express your thoughts and desires to God. As you pray, meditate on the scriptures and let their words guide your words.
Express gratitude for healing: Show gratitude and thankfulness to God for His healing power. As you pray, express your faith in His ability to bring restoration and ask for His guidance throughout your treatment journey.
Seek comfort and peace: In moments of fear or uncertainty, turn to scriptures that offer comfort and peace. For example, Isaiah 41:10 says, "Fear not, for I am with you; be not dismayed, for I am your God; I will strengthen you, I will help you, I will uphold you with my righteous right hand." Praying with this verse can bring a sense of calm and assurance.
Meditating on Healing Scriptures
Meditation is a practice that allows you to focus your mind and find inner peace. When meditating on healing scriptures, consider the following:
Set aside quiet time: Find a quiet and comfortable space where you can be alone with your thoughts. Create an atmosphere conducive to relaxation and reflection.
Repeat healing verses: Choose a healing scripture that resonates with you and repeat it silently or out loud during your meditation. Focus on the words and let them sink deep into your spirit.
Visualize healing: As you meditate, visualize yourself being healed and whole. Imagine the restoration and strength flowing through your body, bringing health and vitality.
Reflect on the promises: Contemplate the promises embedded within the healing scriptures. Ponder on the hope, comfort, and assurance they offer.
Remember, applying healing scriptures to Non-Hodgkin lymphoma can be a source of inspiration and strength during your journey. Personalize the scriptures, pray with conviction, and take time to meditate on their powerful messages. By doing so, you can find solace, hope, and a renewed sense of faith as you navigate through this challenging time.
Testimonials of Healing from Non-Hodgkin Lymphoma
Non-Hodgkin lymphoma is a type of cancer that affects the lymphatic system, which is responsible for fighting infections in the body. While the journey of battling this disease can be challenging, there have been many inspiring stories of individuals who have experienced healing and remission from Non-Hodgkin lymphoma. In this section, we will explore three case studies that highlight these remarkable journeys.
Case Study 1
Case Study 1 features Sarah, a 38-year-old woman diagnosed with Non-Hodgkin lymphoma. After undergoing several rounds of chemotherapy, Sarah's body started to show positive responses to the treatment. Her lymphoma markers began to decrease, and the cancerous cells in her body started to shrink significantly. With perseverance and support from her medical team, Sarah achieved complete remission within two years of her diagnosis.
Case Study 2
In Case Study 2, we meet James, a 55-year-old man who was diagnosed with an aggressive form of Non-Hodgkin lymphoma. Despite the challenging prognosis, James decided to explore alternative treatments alongside his standard medical care. He incorporated a healthy lifestyle, including a nutritious diet, regular exercise, and holistic therapies such as acupuncture and meditation. Over time, James experienced a significant improvement in his overall well-being and witnessed a reduction in tumor size. His determined approach to healing played a vital role in achieving remission and maintaining a positive outlook.
Case Study 3
Our final case study introduces Elena, a 43-year-old woman who faced a relapse of Non-Hodgkin lymphoma after completing her initial treatment. Determined to overcome this setback, Elena underwent a stem cell transplant combined with targeted therapy. The personalized approach to her treatment proved to be highly effective, leading to a complete eradication of cancerous cells in her body. Today, Elena continues to thrive, serving as a testament to the power of innovative therapies in the fight against Non-Hodgkin lymphoma.
Related: Health condition healing scriptures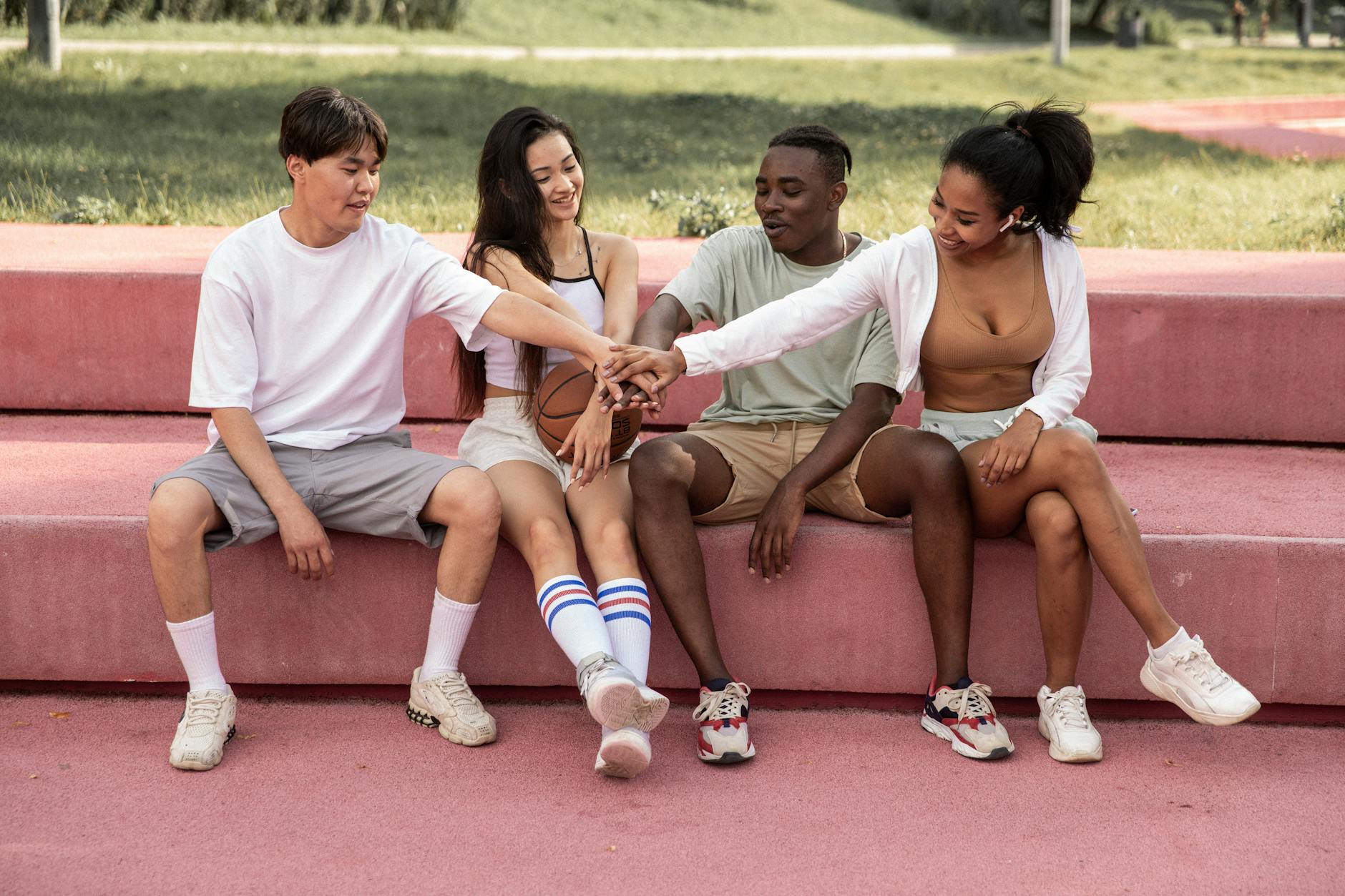 Full length happy young multiracial friends gathering on pink stone bench in green park and stacking hands (Photo by Monstera Production)
These case studies provide hope and inspiration for individuals currently battling Non-Hodgkin lymphoma. While every person's journey is unique, these stories demonstrate that healing and remission are possible. By combining conventional treatments with holistic approaches and a positive mindset, individuals can increase their chances of overcoming this challenging disease.
Note: Always consult with your healthcare provider for personalized medical advice and treatment options tailored to your specific condition.
Conclusion
In this article, we have explored 20 powerful healing scriptures for Non-Hodgkin lymphoma. These scriptures offer comfort, hope, and encouragement to those who are facing this challenging disease.
By meditating on these verses and incorporating them into your daily life, you can find strength and peace during your journey towards healing.
Remember, these scriptures are not a substitute for medical treatment, but they can provide spiritual support and a sense of inner calm.
Whether you are battling Non-Hodgkin lymphoma yourself or supporting a loved one through this difficult time, may these scriptures uplift your spirit and bring you closer to the path of healing.