Discover the power of healing scriptures in this comprehensive guide featuring 25 scriptures used by Kenneth Copeland. If you're seeking divine healing and restoration, these carefully selected verses provide a source of comfort and encouragement. From physical ailments to emotional distress, these scriptures have been embraced by believers worldwide as a source of hope and strength. Whether you're a long-time follower of Kenneth Copeland or new to the concept of healing through scripture, this compilation will serve as a valuable resource on your journey to wellness. Let's delve into these powerful words and unlock their transformative potential.
Who is Kenneth Copeland?
Kenneth Copeland is a well-known televangelist, author, and speaker who has had a significant impact on the Christian community. Born in 1936, Copeland has dedicated his life to spreading the message of faith and healing through his ministry. He is the founder of Kenneth Copeland Ministries (KCM), a organization that focuses on teaching the Word of God, healing, prosperity, and victorious living.
Early Life and Ministry Journey
Copeland's journey in ministry began in the early 1960s when he served as a pilot for Oral Roberts. It was during this time that his interest in faith and the power of God's Word grew, inspiring him to embark on his own ministry. In 1967, he launched Kenneth Copeland Ministries, which quickly gained traction and popularity.
Teachings on Faith and Prosperity
One of the key components of Copeland's teachings is the importance of faith and its role in achieving a prosperous life. He strongly believes that through faith in God, individuals can overcome any obstacle and experience abundance in all areas of life. Copeland emphasizes the power of positive confession, where speaking God's promises and aligning thoughts and words with His Word can bring about a transformational change.
Healing Ministry
Another aspect that sets Kenneth Copeland apart is his focus on healing. He firmly believes in the healing power of God and encourages individuals to trust in His promises for physical and emotional restoration. Copeland's ministry has touched the lives of many, offering hope and encouragement to those in need of healing.
Television Ministry and Impact
Copeland's influence extends beyond the pulpit. He has made use of television as a powerful tool to reach millions of people around the world with his message of faith, prosperity, and healing. Through his television program, "Believer's Voice of Victory," Copeland connects with individuals from various backgrounds, providing inspiration and teaching that resonates with his audience.
Controversies and Criticisms
Like any prominent figure, Kenneth Copeland has faced scrutiny and criticism over the years. Some have questioned his teachings on prosperity, labeling them as "prosperity gospel" and accusing him of using religion for personal gain. However, Copeland and his ministry maintain that their focus is on helping individuals live a life of faith, abundance, and freedom through the teachings of the Bible.
Conclusion
Kenneth Copeland has made a significant impact through his ministry, reaching millions of people with his message of faith, prosperity, and healing. Whether you agree with his teachings or not, there is no denying the influence he has had on the lives of many. His tireless dedication to sharing the Word of God and helping others discover their true potential is a testament to his commitment and passion for serving God and the Christian community.
The Power of Healing Scriptures
Understanding the Role of Scriptures in Healing
Scriptures have long been recognized as a powerful tool for healing in various religious traditions. In the Christian faith, the Bible contains numerous verses that are believed to possess healing properties. These healing scriptures are considered to be the spoken word of God, providing comfort, strength, and restoration to those who believe and meditate upon them.
When it comes to healing, the role of scriptures is multifaceted. Firstly, they serve as a source of guidance and encouragement, reminding believers of God's love and compassion. The words of scriptures offer solace and hope, assuring individuals that they are not alone in their suffering and that there is a divine power ready to bring healing into their lives.
Furthermore, scriptures play a vital role in cultivating faith and belief in the healing process. As individuals read and reflect upon the healing scriptures, they are reminded of the countless biblical accounts where God intervened and brought about miraculous healings. This serves to bolster their faith and instill confidence that healing is possible through the power of God's word.
Biblical Examples of Healing through Scriptures
Throughout the Bible, there are numerous instances where healing was achieved through the power of scriptures. These stories serve as powerful examples of how God's word can bring about physical, emotional, and spiritual healing.
One notable example is the story of Jesus healing the paralytic man in Mark 2:1-12. The man's friends lowered him through the roof of the house where Jesus was preaching, seeking healing for his paralyzed body. Jesus, seeing their faith, declared, "Son, your sins are forgiven," and proceeded to heal the man, allowing him to walk again. This account showcases the authority and power of Jesus' spoken word in bringing about miraculous healing.
Another example can be found in Matthew 9:20-22, where a woman with a hemorrhage for twelve years approached Jesus in the crowd, believing that if she could just touch the hem of his garment, she would be healed. Jesus, perceiving her faith, commended her and declared, "Daughter, your faith has made you well." The woman was instantly healed from her affliction. This story highlights the significance of faith in receiving healing through scriptures.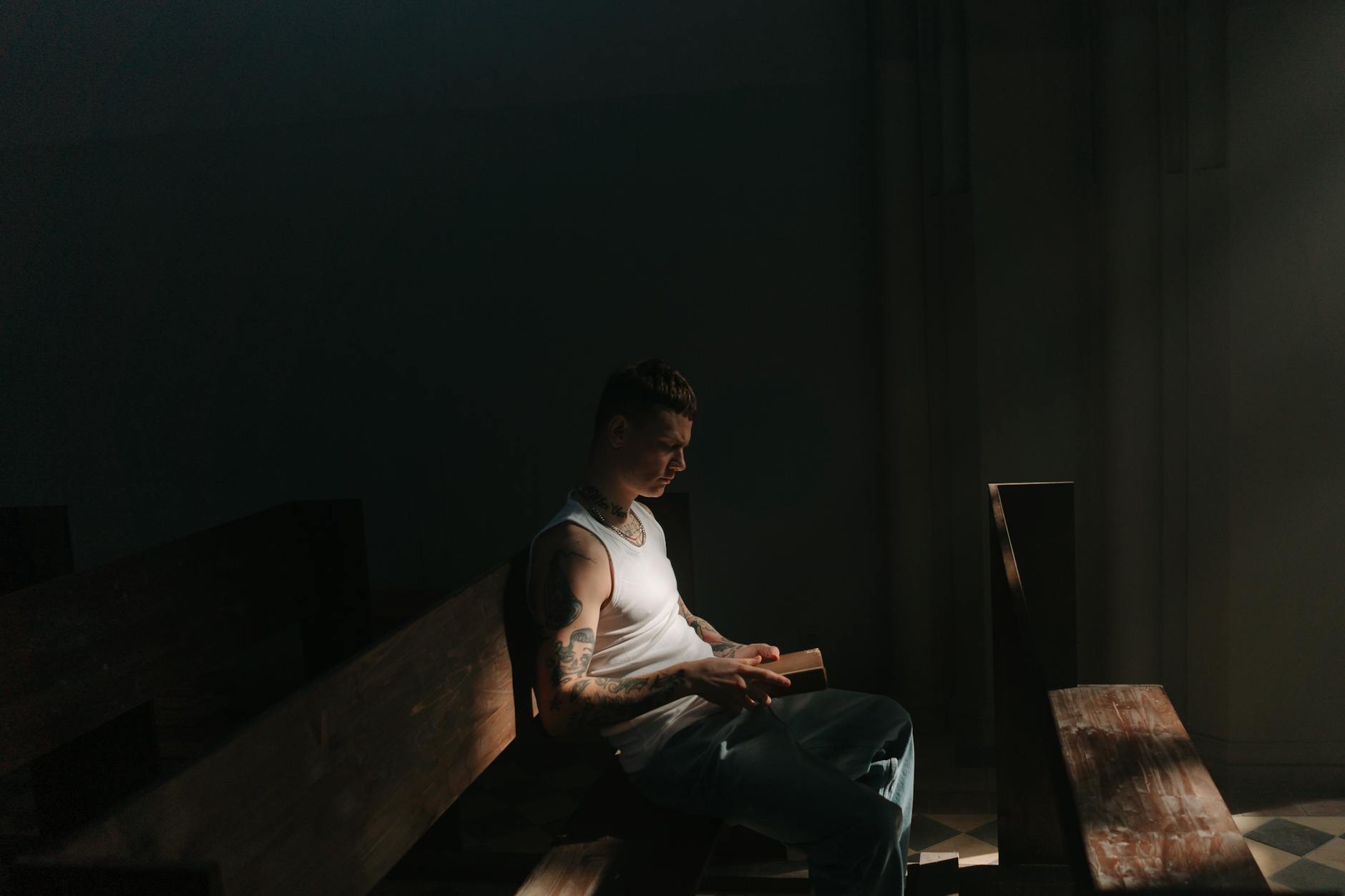 A Side View of a Man in White Tank Top Sitting on a Pew while Reading a Book (Photo by cottonbro studio)
These biblical examples demonstrate the real-life impact and transformative power of scriptures in bringing about healing. They serve as a testament to the potency of God's word and encourage believers to immerse themselves in the healing scriptures, allowing their faith to be strengthened and their bodies, minds, and spirits to be restored.
In conclusion, healing scriptures hold incredible power and significance in the Christian faith. They serve as a source of comfort, encouragement, and guidance, instilling faith and belief in the possibility of healing. The biblical examples of healing through scriptures further reinforce the transformative impact that God's word can have in bringing about physical, emotional, and spiritual healing. Encouraging believers to engage with these healing scriptures can offer hope and restoration, reminding them of the divine power available to bring about healing in their lives.
25 Healing Scriptures Used by Kenneth Copeland
In the realm of faith and healing, Kenneth Copeland has been a prominent figure, inspiring countless individuals with his teachings and the power of God's Word. Throughout his ministry, he has emphasized the importance of standing on specific healing scriptures to receive divine healing. Let's explore 25 of these powerful healing scriptures that Kenneth Copeland often references:
Scripture 1: Psalm 103:2-3
Bless the Lord, O my soul, and forget not all His benefits: Who forgives all your iniquities, Who heals all your diseases.
Scripture 2: Exodus 15:26
…for I am the Lord that heals you.
Scripture 3: Isaiah 53:5
But He was wounded for our transgressions; He was bruised for our iniquities: the chastisement of our peace was upon Him; and with His stripes, we are healed.
Scripture 4: Exodus 23:25
And ye shall serve the Lord your God, and He shall bless thy bread, and thy water; and I will take sickness away from the midst of thee.
Scripture 5: Proverbs 4:20-22
My son, attend to my words; incline thine ear unto my sayings. Let them not depart from thine eyes; keep them in the midst of thine heart. For they are life unto those that find them, and health to all their flesh.
Scripture 6: Matthew 8:17
…Himself took our infirmities, and bare our sicknesses.
Scripture 7: Jeremiah 30:17
For I will restore health unto thee, and I will heal thee of thy wounds, saith the Lord.
Scripture 8: Psalm 41:3
The Lord will strengthen him upon the bed of languishing: thou wilt make all his bed in his sickness.
Scripture 9: Jeremiah 33:6
Behold, I will bring it health and cure, and I will cure them, and will reveal unto them the abundance of peace and truth.
Scripture 10: Matthew 9:35
And Jesus went about all the cities and villages, teaching in their synagogues and preaching the gospel of the kingdom, and healing every sickness and every disease among the people.
Scripture 11: Mark 11:24
Therefore I say unto you, What things soever ye desire when ye pray, believe that ye receive them, and ye shall have them.
Scripture 12: James 5:14-15
Is any sick among you? Let him call for the elders of the church, and let them pray over him, anointing him with oil in the name of the Lord. And the prayer of faith shall save the sick, and the Lord shall raise him up; and if he has committed sins, they shall be forgiven him.
Scripture 13: 1 Peter 2:24
Who His own self bare our sins in His own body on the tree, that we, being dead to sins, should live unto righteousness: by whose stripes ye were healed.
Scripture 14: Psalm 107:20
He sent His word, and healed them, and delivered them from their destructions.
Scripture 15: Matthew 8:2-3
And, behold, there came a leper and worshipped Him, saying, Lord, if thou wilt, thou canst make me clean. And Jesus put forth His hand, and touched him, saying, I will; be thou clean. And immediately his leprosy was cleansed.
Scripture 16: Psalm 147:3
He heals the broken in heart and binds up their wounds.
Scripture 17: Mark 5:34
And He said unto her, Daughter, thy faith hath made thee whole; go in peace and be whole of thy plague.
Scripture 18: Isaiah 57:19
I create the fruit of the lips: Peace, peace to him that is far off, and to him that is near, saith the Lord; and I will heal him.
Scripture 19: Mark 16:17-18
And these signs shall follow them that believe; In my name…they shall lay hands on the sick, and they shall recover.
Scripture 20: Matthew 15:30
And great multitudes came unto Him, having with them those that were lame, blind, dumb, maimed, and many others, and cast them down at Jesus' feet; and He healed them.
Scripture 21: Hebrews 13:8
Jesus Christ the same yesterday, and today, and forever.
Scripture 22: Acts 10:38
How God anointed Jesus of Nazareth with the Holy Ghost and with power: who went about doing good and healing all that were oppressed of the devil; for God was with Him.
Scripture 23: Proverbs 3:7-8
Be not wise in thine own eyes: fear the Lord, and depart from evil. It shall be health to thy navel, and marrow to thy bones.
Scripture 24: Malachi 4:2
But unto you that fear My name shall the Sun of righteousness arise with healing in His wings…
Scripture 25: Psalm 30:2
O Lord my God, I cried unto thee, and thou hast healed me.
These healing scriptures carry powerful promises of God's healing and restoration. As Kenneth Copeland advises, declare and meditate on these scriptures, allowing them to infuse faith and confidence in God's ability to bring forth healing in your life. Remember, the Word of God is alive and active, and by standing firmly on it, you can experience the transformative power of divine healing.
Two People On Mountain Cliff (Photo by Valdemaras D.)
How to Use Healing Scriptures in Your Life
Using healing scriptures can be a powerful way to activate faith and experience healing in your life. Here are four steps you can take to effectively use healing scriptures:
Step 1: Choose Relevant Healing Scriptures
The first step in using healing scriptures is to select relevant verses that specifically address your personal situation. Different scriptures may apply to different aspects of healing, such as physical, emotional, or spiritual healing. Take the time to search the Bible and identify scriptures that resonate with your needs.
Step 2: Meditate on the Scriptures
Once you have chosen the relevant healing scriptures, it is important to meditate on them consistently. Meditating on the scriptures involves dwelling on them, pondering their meaning, and allowing them to sink deep into your heart and mind. This process helps to build faith and reinforce the healing promises contained in the scriptures.
Step 3: Confess and Declare the Scriptures
Words have power, and speaking out the healing scriptures is an important step in activating their power in your life. Confessing and declaring the scriptures aloud helps to align your thoughts and words with God's promises of healing. By speaking out the scriptures daily, you are affirming your faith and inviting God's healing into your life.
Step 4: Apply and Stand on the Scriptures
In addition to meditating on and confessing the healing scriptures, it is crucial to apply them to your specific circumstances and stand firmly on their promises. This means actively believing and trusting in the truth of God's Word, even when faced with challenges or setbacks. Apply the scriptures by praying in faith, seeking godly counsel, and taking practical steps towards healing.
Remember, using healing scriptures is not a magical formula but a means to cultivate faith and align your heart and mind with God's healing power. As you consistently apply these steps, you will experience the transformative impact of God's Word in your life.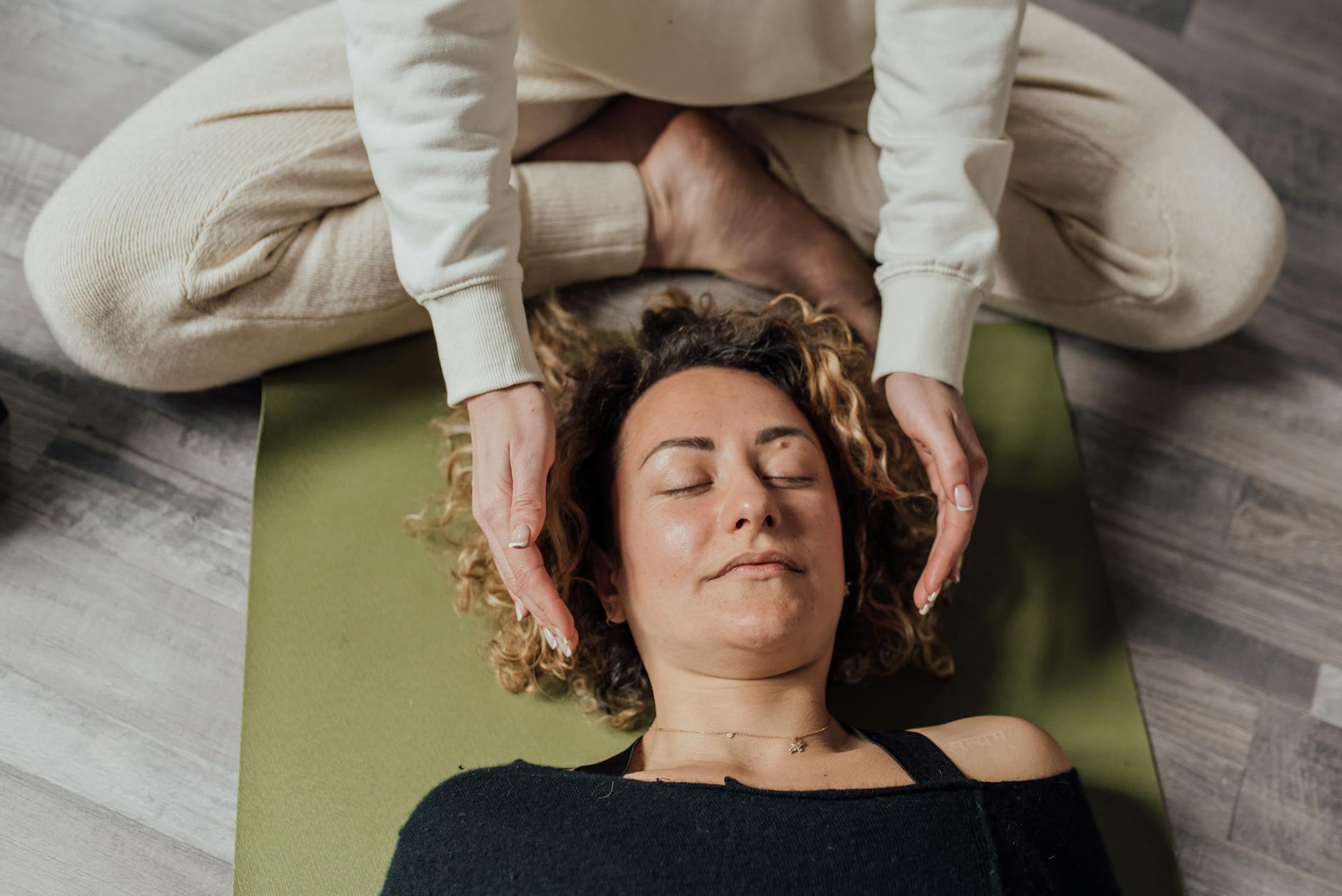 Woman Lying on a Yoga Mat (Photo by Arina Krasnikova)
Final Words
In conclusion, the 25 healing scriptures used by Kenneth Copeland offer a source of comfort, inspiration, and hope to those seeking physical and emotional healing. These scriptures remind us of the power of faith and the importance of aligning our thoughts and beliefs with God's promises. By meditating on these scriptures and declaring them over our lives, we can tap into the divine healing that God has made available to us. Whether you are facing a physical ailment or in need of emotional wholeness, these scriptures can serve as a guiding light on your healing journey. Remember, healing is not a one-size-fits-all process, but through scripture and faith, we can find strength and restoration. Trust in God's word, hold onto these healing scriptures, and believe that miracles are possible. May these scriptures bring you comfort and encouragement as you walk towards a life of healing and wellness.