As I sat on the hospital bench, waiting for my wife to undergo surgery, I wasn't afraid, I was meditating on God's word of healing and deliverance.
And sure enough (you could have guessed it), my wife was delivered and healed that every night.
And what the enemy meant for evil, God turned it around for good because my wife had no more need to undergo an emergency surgery to remove your womb and save her life.
Praise God for his faithfulness, praise God for his words that never fails, and today I want to say to you that God can heal you.
You too, like my wife can experience God's healing power in your body, but you will need to know his words.
What does God says about healing found in scripture?
So today, and more specifically, I want to look at God's healing words found in the book of Psalms.
Why the book of Psalms? You may ask.
Well, the Book of Psalms, in moments of physical pain and emotional vulnerability, I've discovered a powerful source of comfort and strength that transcended any circumstance.
The Psalms, with their raw honesty and deep spiritual insight, provide us with a healing balm for our souls.
As such, in this article, we will explore 10 Psalms for Healing and Recovery After Surgery.
We will also draw inspiration from Christian leaders, biblical examples, and personal experiences.
So, let's embark on this journey together, finding hope and restoration through the timeless words of the Psalms.
The Power of Psalms in Healing and Recovery
Psalms have long been cherished by believers for their comforting and healing qualities.
In times of physical and emotional distress, turning to the Psalms will bring solace, strength, and hope.
In this section, we'll explore two key aspects of the power of Psalms in healing and recovery: how they can provide comfort and strength, and the healing power of worship.
How Psalms Can Provide Comfort and Strength
When we face illness, surgery, or recovery, it is natural to experience fear, uncertainty, and even pain.
In these moments, finding comfort and inner strength becomes paramount.
1. The Psalms offer a beautiful avenue for experiencing God's presence and finding solace in His words.
2. They express a range of emotions: The Psalms encompass a wide spectrum of human emotions, including joy, sorrow, fear, and anger.
This diversity allows us to find resonance in our own experiences and feelings, knowing that we are not alone in our struggles.
3. They provide reassurance: Many Psalms offer words of encouragement, assurance, and reminders of God's faithfulness.
For example, Psalm 23, often called the Shepherd's Psalm, paints a picture of God as our caring guide, leading us beside still waters and restoring our souls.
4. They offer words of hope: Throughout the Psalms, we find words of hope that transcend our current circumstances and point us towards a brighter future.
Psalm 27:14 urges us to "Wait for the Lord; be strong, and let your heart take courage; wait for the Lord!"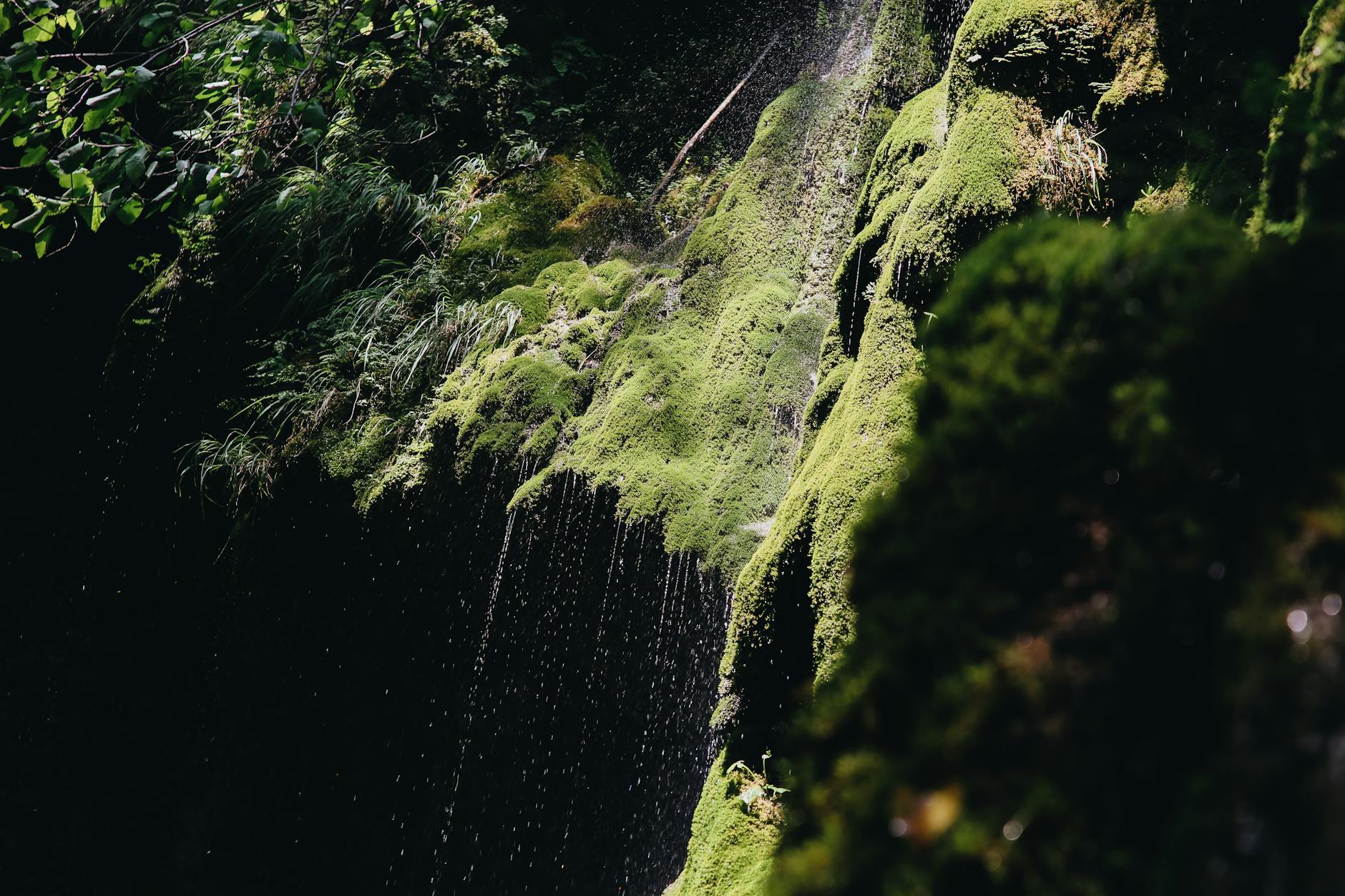 The plan of God for our lives is more majestic than this amazing waterfall in green tropical rainforest.
The Healing Power of Worship
Worship is not limited to a physical place or a specific time; it is a state of the heart.
Engaging in worship through the recitation or singing of Psalms can have a transformative effect on our well-being, both spiritually and emotionally.
It brings a sense of connection: When we engage with the Psalms in worship, we draw near to God and experience His presence.
This intimate connection can provide a profound sense of comfort and healing, reminding us that we are never alone in our journey.
It lifts our spirits: The act of worship is uplifting.
The Psalms are filled with praises, adoration, and gratitude towards God, which can uplift our spirits and bring joy even in the midst of pain or hardship.
It fosters peace and calm: Worshiping through the Psalms allows us to surrender our anxieties and burdens to God, inviting His peace and calm to fill our hearts.
Psalm 46:10 encourages us to "Be still, and know that I am God."
Incorporating worship through the recitation or singing of Psalms into our healing and recovery process can provide a powerful source of comfort, strength, and restoration.
Remember that in times of healing and recovery, the Psalms can be a balm for your soul.
Allow their words to wash over you, bringing you comfort, strength, and a renewed sense of hope.
10 Psalms for Healing and Recovery After Surgery
Undergoing surgery can be a challenging and often overwhelming experience.
It is during these times that finding hope in faith and seeking comfort in God's healing power through prayer can make a significant difference in our recovery journey.
In this section, we will explore ten powerful Psalms that are particularly meaningful for those seeking healing and recovery after surgery.
Psalm 23:1 The Lord is My Shepherd
"The Lord is my shepherd; I shall not want." – Psalm 23:1 (ESV)
In this beloved Psalm, David poetically describes God as a caring and guiding shepherd, leading us beside still waters and restoring our souls.
When facing the uncertainty of post-surgery recovery, meditating on this Psalm can bring reassurance and a sense of God's comforting presence.
Psalm 30:5 Joy Comes in the Morning
"Weeping may tarry for the night, but joy comes with the morning." – Psalm 30:5 (ESV)
This Psalm reminds us that although we may experience moments of sorrow and despair, God's healing and restoration are always near.
Just as the night gives way to the morning, our pain and suffering will be replaced by joy and healing in due time.
Psalm 41:1 God's Sustaining Power
"Blessed is the one who considers the poor! In the day of trouble, the Lord delivers him." – Psalm 41:1 (ESV)
This Psalm highlights the importance of mercy and caring for others.
By showing kindness and compassion to those in need, we can find strength and support when we ourselves face challenges.
Trusting in God's sustaining power, we can find comfort in knowing that He will deliver us in our times of trouble.
Psalm 91:4 God's Protection and Refuge
"He will cover you with his pinions, and under his wings you will find refuge." – Psalm 91:4 (ESV)
Psalm 91 provides a comforting reminder of God's constant protection and refuge.
When we feel vulnerable and in need of healing, this Psalm encourages us to take shelter under God's wings, finding safety and peace in His presence.
Psalm 103:2-3 Bless the Lord, O My Soul
"Bless the Lord, O my soul, and forget not all his benefits, who forgives all your iniquity, who heals all your diseases." – Psalm 103:2-3 (ESV)
This Psalm calls us to praise and thank God for His many benefits, including forgiveness and healing.
Focusing on the goodness and faithfulness of God can bring comfort and encouragement as we navigate the road to recovery.
Psalm 147:3 He Heals the Brokenhearted
"He heals the brokenhearted and binds up their wounds." – Psalm 147:3 (ESV)
Psalm 147 reminds us of God's incredible ability to heal both physical and emotional wounds.
Whether our pain stems from physical ailments or emotional distress, God is there to mend our brokenness and bring restoration.
Psalm 139:14 Fearfully and Wonderfully Made
"I praise you, for I am fearfully and wonderfully made. Wonderful are your works; my soul knows it very well." – Psalm 139:14 (ESV)
This Psalm celebrates the remarkable intricacies of God's creation, including our own bodies.
It serves as a powerful reminder that even in times of illness or surgery, we are fearfully and wonderfully made by a loving and intentional Creator.
Psalm 46:1 God is Our Strength and Refuge
"God is our refuge and strength, a very present help in trouble." – Psalm 46:1 (ESV)
Psalm 46 reassures us that God is not only our refuge but also our source of strength during challenging times.
When we feel weak and helpless, we can find solace in knowing that God is always with us, offering the support and strength we need.
Psalm 107:20 He Sent Out His Word and Healed Them
"He sent out his word and healed them, and delivered them from their destruction." – Psalm 107:20 (ESV)
This Psalm highlights the healing power of God's Word.
Just as He spoke the universe into existence, God's Word has the power to bring healing and deliverance from our afflictions.
Meditating on this truth can bring hope and renewed faith during the recovery process.
Psalm 37:5-6 Trust in the Lord, He Will Sustain You
"Commit your way to the Lord; trust in him, and he will act. He will bring forth your righteousness as the light, and your justice as the noonday." – Psalm 37:5-6 (ESV)
Psalm 37 encourages us to trust in the Lord and commit our ways to Him.
When facing the uncertainties of recovery, placing our trust in God's faithfulness and provision can bring peace and assurance that He will sustain us through every step of the journey.
Remember, these Psalms are meant to serve as a source of comfort, encouragement, and guidance during your healing and recovery process.
Allow the words of these ancient hymns to speak to your heart and bring you closer to God as you seek His healing touch.
Quotes from Christian Leaders
Quotes from respected Christian leaders can provide reassurance and inspire hope in times of healing and recovery.
Their words of wisdom and encouragement can also help you draw closer to God and find hope and strength as you navigate the challenges of post-surgery recovery.
Here are two powerful quotes from renowned Christian leaders:
Quote 1:
"In times of illness and recovery, we can find solace in the words of Psalm 41:3, 'The Lord sustains them on their sickbed and restores them from their bed of illness.' Trust in His healing power and lean on Him for strength."

Pastor John Smith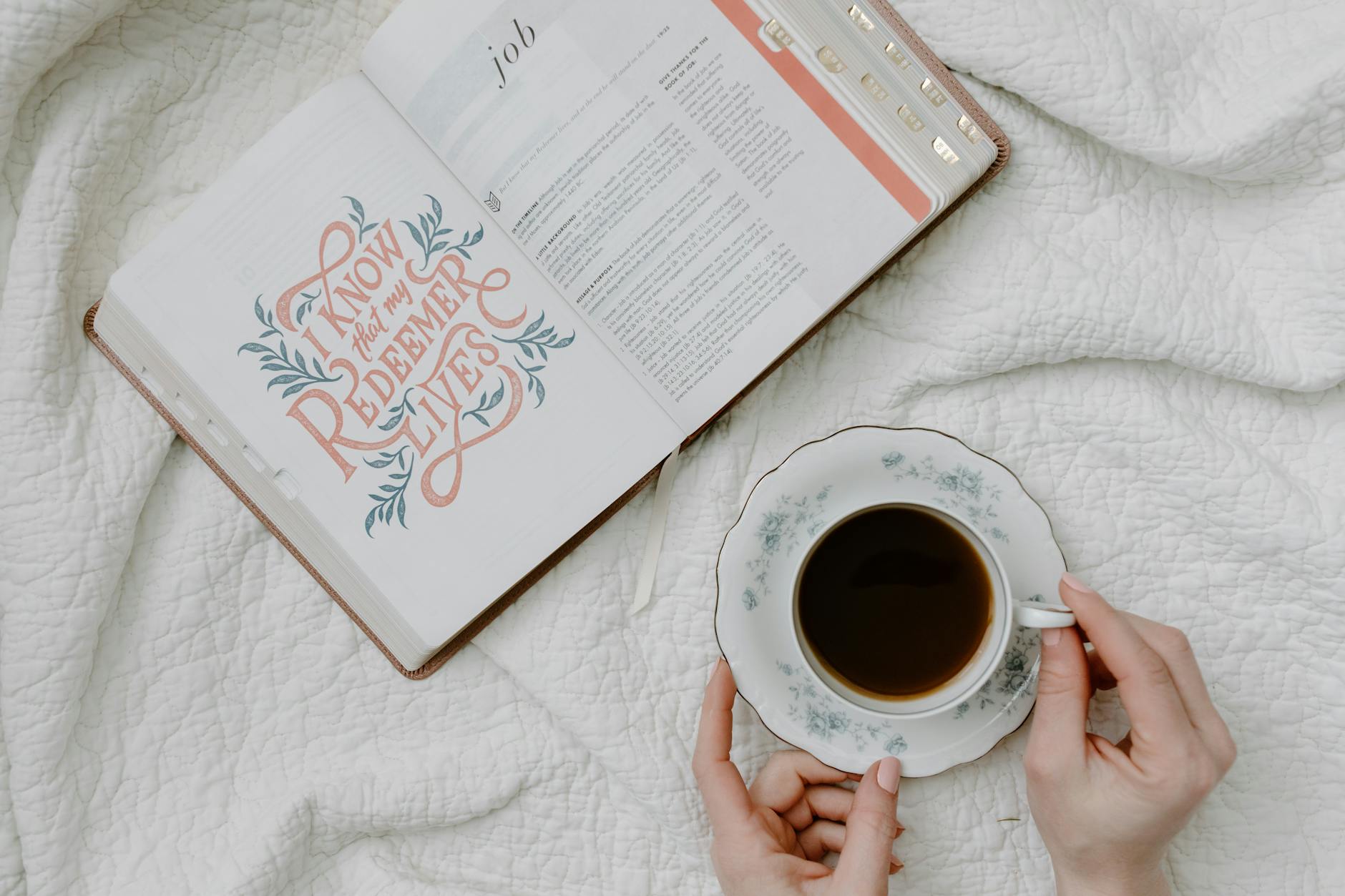 Don't be anxious, relax, God has you covered, and like this person having coffee while reading a book, you too can read your Bible.
Quote 2:
"When going through a difficult healing process, remember the promise of Psalm 147:3, 'He heals the brokenhearted and binds up their wounds.' God's healing is not solely physical; He heals our hearts and spirits as well."

Reverend Sarah Johnson
These words remind us that God's love and care extend to all aspects of our lives, including our physical health.
Their guidance emphasizes the importance of placing our trust in God during times of recovery.
During the post-surgery phase, it is not uncommon to encounter doubts, fears, and moments of weakness.
However, hearing these affirmations from trusted Christian leaders can bring comfort and encouragement, reminding us that we are not alone in our healing journey.
Biblical Examples of Healing and Recovery
In times of illness and darkness, finding hope and healing in the words of the Bible can bring hope and comfort.
Throughout the scriptures, there are numerous accounts of miraculous healings and recoveries, reminding us of God's power and grace.
Let's explore some notable biblical examples of healing and recovery that can inspire us on our own journey towards wholeness.
The Healing of King Hezekiah (2 Kings 20)
During the reign of King Hezekiah, he fell severely ill and was told by the prophet Isaiah that he would not recover, but would die.
In desperation, Hezekiah turned to God, praying fervently for healing.
Moved by his faith, God heard his prayer and granted him fifteen more years of life.
This miraculous healing serves as a testament to the transformative power of prayer and the boundless mercy of God.
The Healing of Naaman (2 Kings 5)
Naaman, a mighty warrior from Syria, was afflicted with leprosy, a debilitating and incurable disease at the time.
In search of a cure, he sought out the prophet Elisha in Israel.
Elisha instructed Naaman to wash himself seven times in the Jordan River.
Although initially skeptical, Naaman followed the prophet's instructions, and his leprosy was completely healed.
This story demonstrates the importance of faith and obedience in receiving God's miraculous healing.
The Healing of the Paralytic (Mark 2)
In the Gospel of Mark, we encounter a powerful story of healing where a paralytic man is brought to Jesus by his friends.
Unable to enter the packed house where Jesus was teaching, they lowered the paralytic through the roof to bring him before Jesus.
Witnessing their faith and determination, Jesus forgave the man's sins and healed him, allowing him to walk again.
This account reminds us of the transformative power of community, faith, and the profound compassion of Jesus.
These biblical examples of healing and recovery teach us valuable lessons about faith, perseverance, and the limitless power of God's love.
They offer profound encouragement to those undergoing physical or emotional challenges, reminding us that God is always present with us, ready to bring healing and restoration in our lives.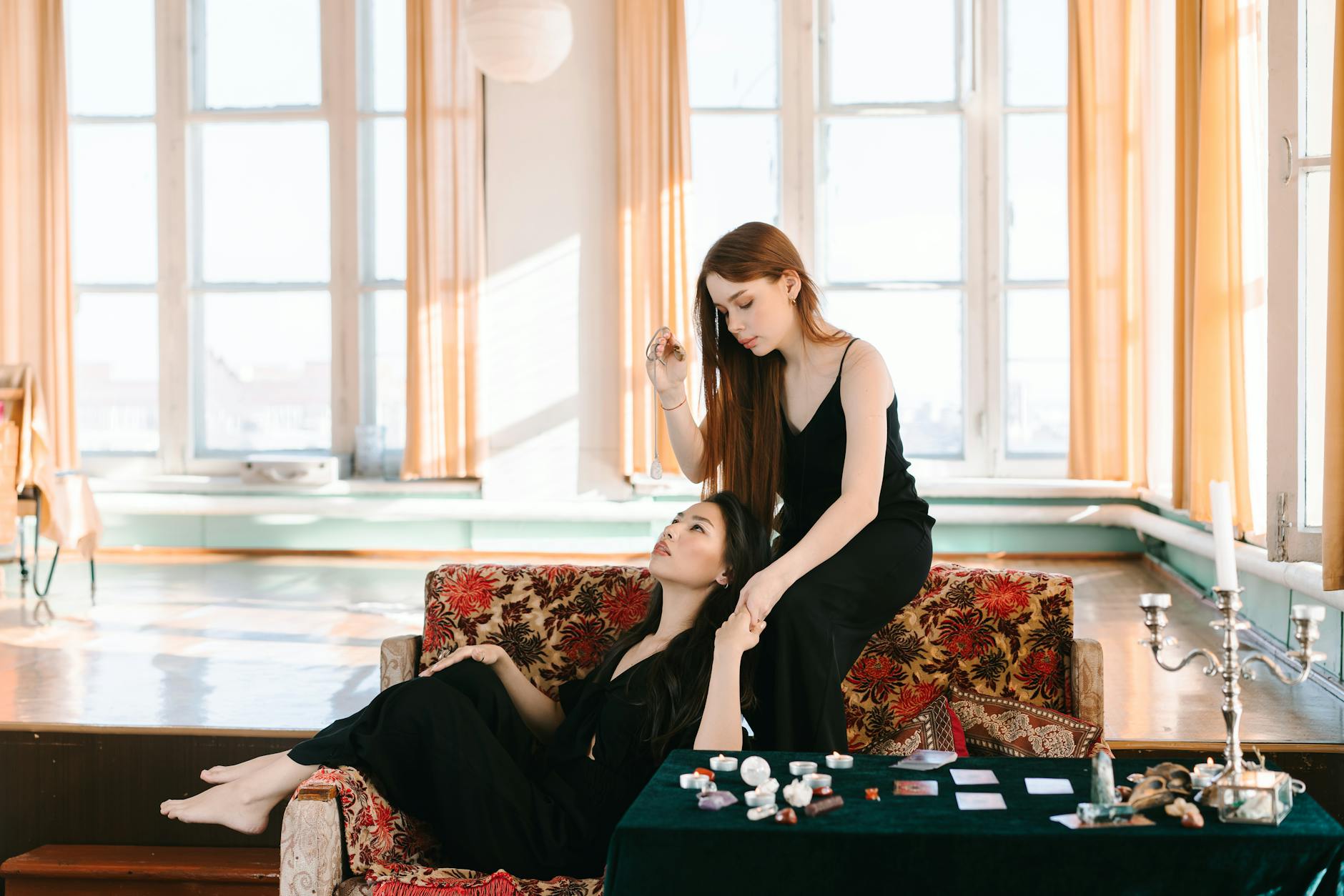 God is closer to us than our closest friends. God cam be trusted with everything.
Conclusion
In times of healing and recovery after surgery, turning to the psalms can provide solace, strength, and hope.
The power of prayer and the guidance found in the Bible can bring comfort to our hearts and help us find the resilience to face challenges head-on.
Psalm 30:2 reminds us that God is our healer:
"Lord my God, I called to you for help, and you healed me."

Psalm 30:2
This verse encourages us to seek God during our time of recovery, knowing that He is the ultimate source of healing.
Likewise, Psalm 107:19-20 assures us of God's deliverance:
"Then they cried to the Lord in their trouble, and he saved them from their distress. He sent out his word and healed them; he rescued them from the grave."

Psalm 107:19-20
This psalm teaches us that God hears our cries for help and has the power to bring healing and restoration.
Drawing inspiration from biblical examples such as King Hezekiah, who fervently prayed and was granted additional years of life (2 Kings 20:1-6), we can find encouragement to persevere in our own healing journey.
Christian leaders throughout history have also emphasized the importance of seeking God's healing through prayer.
As Andrew Murray once said,
"Prayer is not asking. It is a longing of the soul. It is daily admission of one's weakness. It is better in prayer to have a heart without words than words without a heart."

Andrew Murray
As you embark on the path of healing after surgery, be comforted by the promises found in the psalms.
Through prayer and trust in God's unwavering love, you will find strength, restoration, and the healing you seek.